In a country where getting born with an intellectual disability could mean a sentence to a life of isolation, three young Egyptian girls with down syndrome took matters into hand and set out to change their destiny by launching their own online-bakery, namely The Four Biscuits, last May.
The Four Biscuits started off when co-founder Nada Ahmed, along with fellow co-founders Shereen and Noura Hamdy, wanted to ensure that their sisters and their friends have a means of making their own money, and enriching their lives with a productive activity instead of wasting away; "We used to take the girls out together, they love each other and feel much more confident when they're together. We went between many different special needs schools and decided that it's a better idea to give them something much more long term, to ensure their place as working individuals in society." Nada then decided to attend the European Culture Foundation's Idea Camp back in 2017, which is where she learned the necessary set of skills the biscuits now use to their advantage.
The Biscuits themselves are crafted up Nada's sister, Seba Ahmed, and her friends Haidy Adel and Sherihan Hamdy; a sociable and creative trio between the ages of 18 and 21 that love what they do, and it shows in their happily baked goods. "Sometimes we take vacations to rest, and the girls would keep asking when we'd get back to baking biscuits, they love what they do and are proud of their work." Nada commented. Though the biscuits are only 3 for now, the door is always open for even more biscuits to join the club, bake, have fun and grow together, and it's not just girls either that can join the biscuits; boys are encouraged to join too.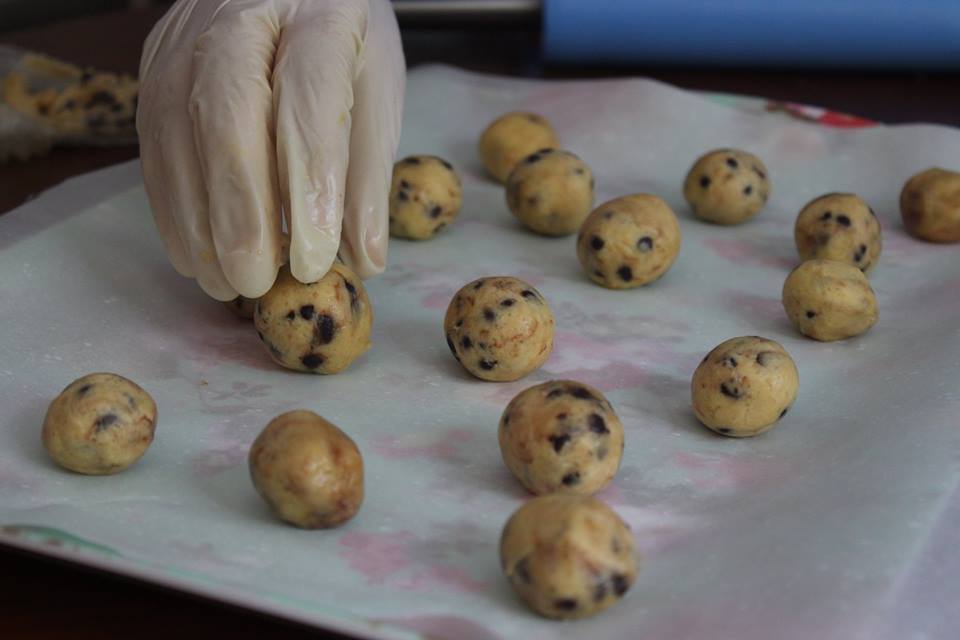 Businesses and initiatives like the Four Biscuits are important not only because they give people with down syndrome a chance to learn a new skill and make an honest living on their own, but also to encourage those with intellectual disabilities at large to participate, innovate and start their own initiatives to both spread awareness and end the stigma of disability. "People love what we do and the idea, and they love the girls and encourage them to keep at it. We haven't gotten any negative criticism so far and we're happy to do what we do," said says. Just because you happen to be born with an intellectual disability doesn't mean you can't get the most out of life, and the biscuits are just one of the many examples around that prove that same point. With enough time and effort, the Four Biscuits can grow to four hundred, four thousand and beyond.
If you want to get your hands on some of the best cookies in Cairo, head over to the Four Biscuits' Facebook Page to get in touch and start munching away.