Whether you've been together forever or are cosying up to someone new, the restaurant choice can honestly make or break a date night. From intimate ambiances to indulgent cuisine, we've narrowed down the top choices from all across Cairo. Here are restaurants that prove incredible meals–and a romantic setting–are the best way to someone's heart. Oh, and happy Valentine's Day, bbs.
XODO // GIZA
If your other half doesn't want to marry you after this divine dinner at Xodo, then they're not the one for you. The Brazilian eatery is romantic by nature, but their Valentine's Day Special will take your relationship to the whole next level. Treat yourself and your sugar boo to an all-you-can-eat carnivorous fiesta for EGP 3000.
Phone: 02 35671870
ITALIANO // SHEIKH ZAYED
Okay so, Valentine's will feel different here because you and your beloved can binge-watch Friends (season five) and eat heart-shaped pizza all night at Italiano for EGP 800+.
Phone: 0120 725 1111
ESCA // HELIOPOLIS, NEW CAIRO
If your idea of romance is less fussy and more fun, then Esca is a must. Perfect for sharing, the menu is packed with Mediterranean and Asian flavours, including a wildly addictive octopus salad, beautifully spiced skewers, and Instagrammable bao buns that you and your date will be talking about long after dessert is gone. PRO TIP: Their Heliopolis branch is a work of art and dinner will cost EGP 2400 for the both of you.
Phone: 0101 115 5776
MERMAID // MAADI
This hole-in-the-wall Maadi gem neatly threads the needle between neighborhood favourite and special occasion spot with an Italian-focused menu filled with an exciting blend of classic flavours and zing-y, refreshing takes that are sure to make it a date night mainstay. We totes recommend having their seafood pizza or lasagna.
Phone: 02 23583964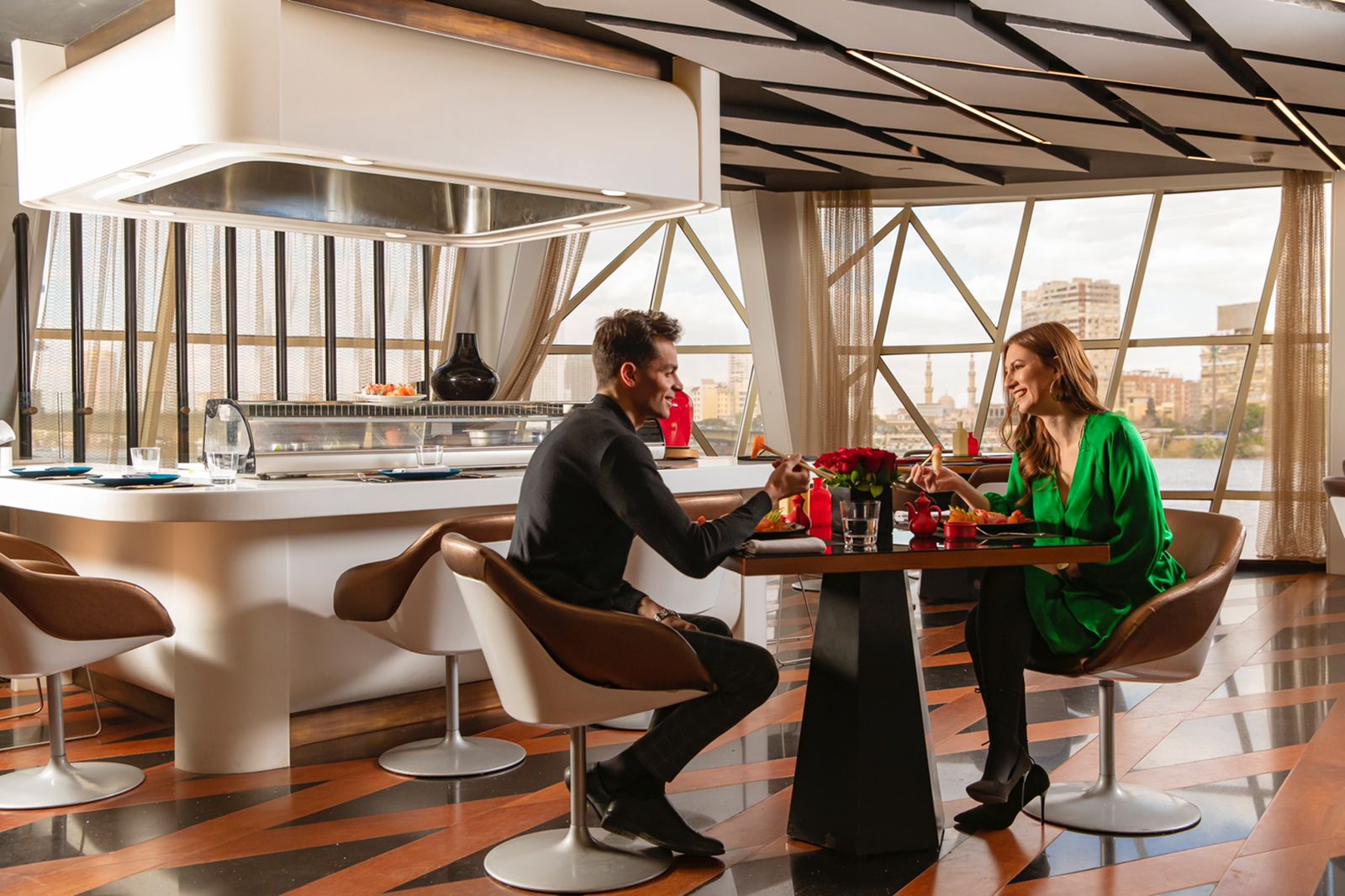 Dinner at Nairu
NAIRU // GIZA
If you're searching for the key to your lover's heart, it's Asian food. And wine. And more Asian food. And wine. Nothing says I love you like being able to order anything off of the menu, which you can do for the both of you for EGP 2600. You'll definitely both be in a food coma after this, but hey, at least you're not ending the night alone.
Phone: 02 35671870
AURA // GIZA
Expect Lebanese food, live entertainment and your own private cabana by the pool with your significant other all for EGP 2400+++. You're welcome.
Phone: 02 35671870
139 PAVILION // HARAM
Not only is their international menu absolutely splendid, but you'll get to gorge on their food whilst your eyes feast on the Great Pyramids of Giza. Now that's what we call a romantic date.
Phone: 02 33773222
ESTRO // MAADI
Estro is a nostalgic neighborhood spot with a cozy and intimate aura, perfect for cosying up with your loved one. With wine at the forefront, this Sicilian spot is a great place to celebrate Valentine's Day. Bring your person here if they would rather eat amazing food in an unpretentious setting than shovel down caviar and foam. Oh, and the view is to die for.
Phone: +2 0106 643 1590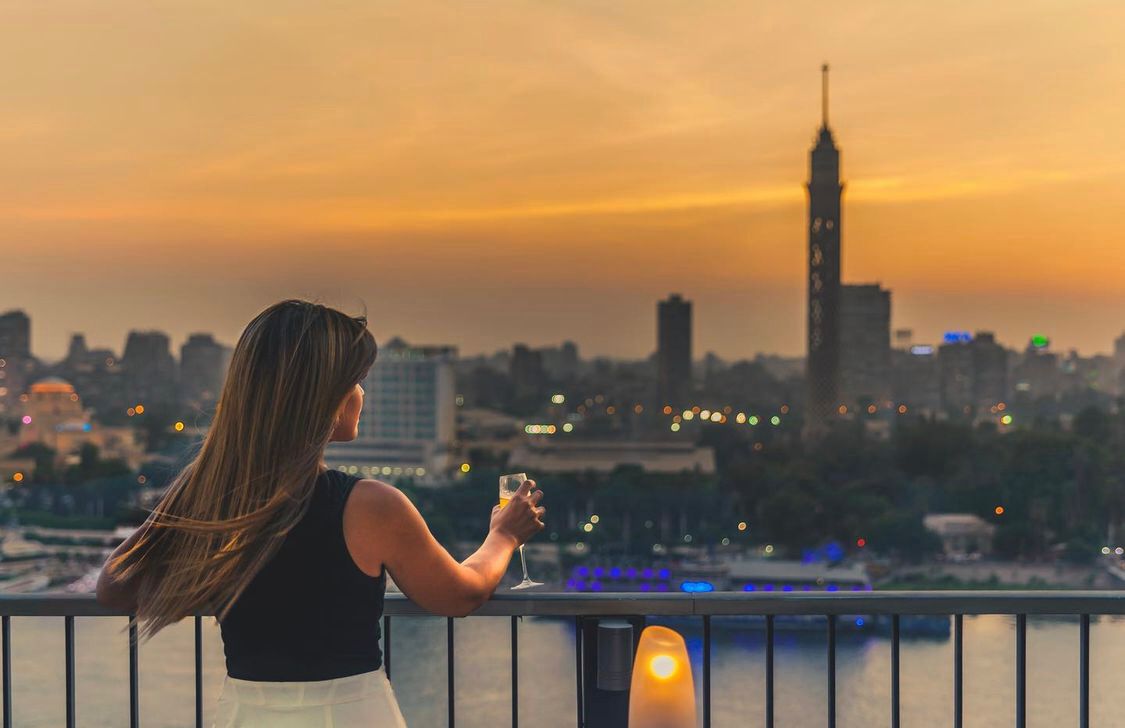 The view at Nox
CRIMSON // ZAMALEK
If you can't bring your special someone to a yacht out in the sea, bring her to the next best thing: a gorj restaurant by the Nile. When it comes to actual food, their menu has something for everyone so you and your other half's cravings don't have to worry.
Phone: 0127 505 5555
NOX // DOWNTOWN CAIRO
If you look up romance in the dictionary, you'll find Nox. Located on top of The Nile Ritz-Carlton, this restaurant will be sure to impress the most critical of eaters. And yes, we're talking about your partner who only eats paleo, grain-free, gluten-free, organic, dairy-free, and taste-free foods.
Phone: 02 25778899
VILLA BELLE EPOQUE // MAADI
Everyone's favourite boutique hotel is going to make you wish it was Valentine's every single day because they're coming thru with set menus, live entertainment and candle-lit dinners that are drowning in petals for your and your other half. Oh, and it'll cost you two EGP 3300.
Phone: 02 23580265
ESCO BAR // GARDEN CITY
Travel to Mexico with your better half this Valentine's Day without packing a suitcase. You'll just have to go to Esco Bar, and let them take care of the rest.
Phone: 0112 971 4554
PIER 88 // ZAMALEK, SHEIKH ZAYED
Whether you opt for more casual bites and drinks at Pier –nab a coveted seat at the bustling bar if you can–or go for a more formal meal in their dining area, either way you'll be rewarded with friendly service, vibrant fresh floral displays, and hearty yet refined cooking by their team of international chefs.
Phone: 0120 811 1130
SASS // ZAMALEK
Oysters get all the aphrodisiac glory, but if you really want to impress your seafood-loving lover, head to this Zamalek restobar. For a date night "wow" moment, the whole fish sashimi is a must, but don't skimp on the creative cooked options like madai snapper in Peking duck broth and the highly shareable small plates. And sure, maybe some oysters for the table too.
Phone: +2 0120 001 9979
SACHI // HELIOPOLIS, SHEIKH ZAYED
Did you know that Sachi ranked fifth when it comes to the Best 50 Restaurants in MENA? Now that you know, we won't give you or your loved one another reason to come here because it's sorted.
Phone: +2 0128 090 2028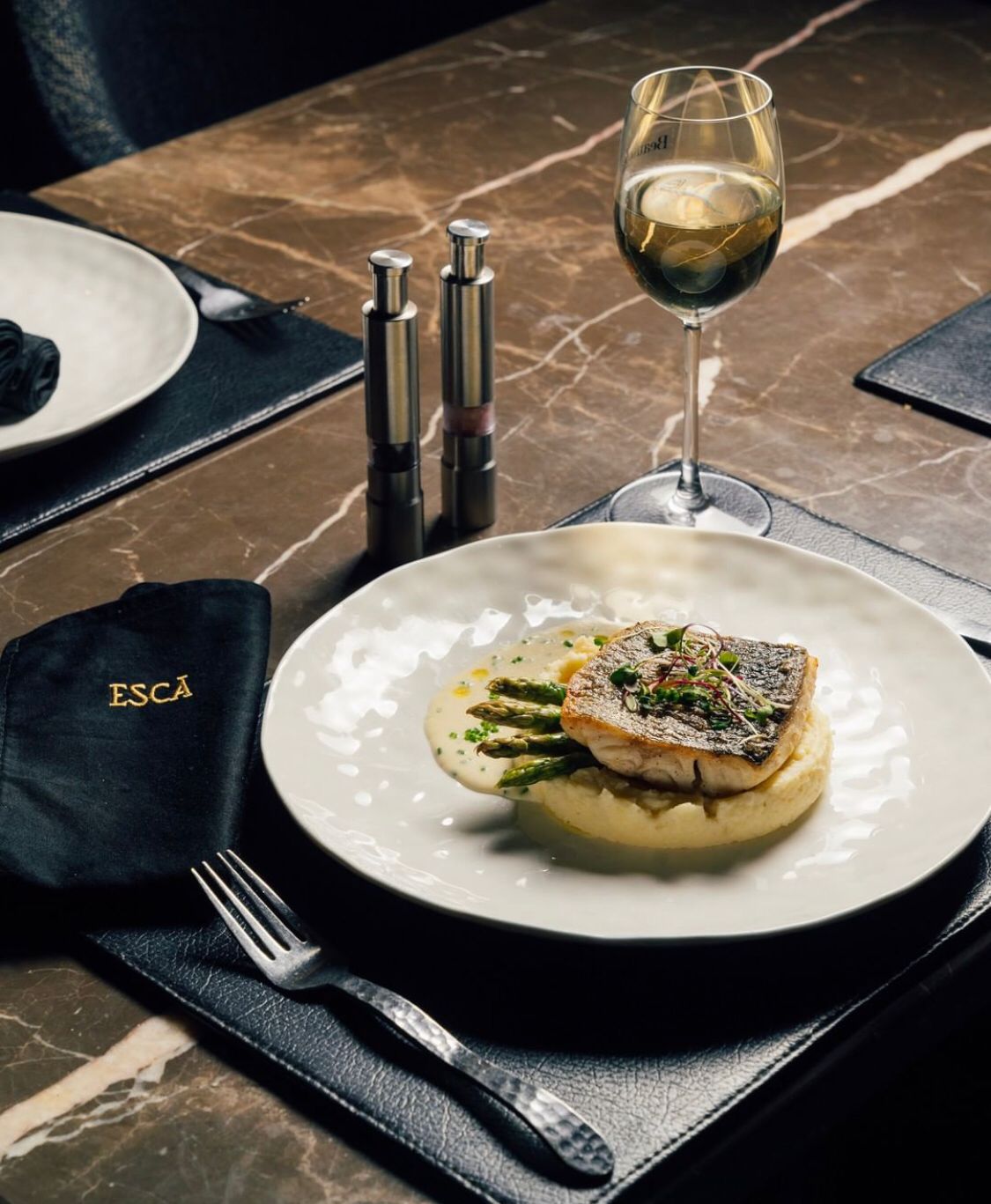 The food at Esca
GINKGO // BEAULAC
Upon entering Ginkgo you feel as if you've walked into a speakeasy not because of its art deco decor of chairs and couches, but from the elusive atmosphere. With it's delicious menu with a wide array of bistro choices–come for a drink, or a meal, but stay for the experience.
Phone: 02 24619494
OPIA // DOWNTOWN CAIRO
Looking to splash out? You and your special someone will feel positively fab at Opia, which features classical techniques to make the most of luxe local seafood, meat, and produce. Of course, the food is only part of the story here, where the ultra-attentive service ensures that your every need and whim is artfully attended to—because for your special night out, you deserve it.
Phone: +2 0102 221 8977
VIVO // DOWNTOWN CAIRO
Nestled away inside The Nile Ritz-Carlton, Vivo is what Italian dreams are made of. Not only will Italian foodies will go fifty shades of cray cray over the menu, you and your other half will certainly walk out of this restaurant more in love than ever thanks to the atmosphere of the place.
Phone: 02 25778899
IZAKAYA // SHEIKH ZAYED
The restaurant's patio area is probably one of the most romantic spots on this list, so you should try and head there when it's patio-worthy weather. The place is tastefully overrun with flowers and string lights, making it the perfect date night out. Oh, but if you do go when it's cold, no worries—the patio is heated! Expect Japanese-Peruvian food, hunty.
Phone: +2 0127 111 6223