On one of the busiest streets of Ismailia lies a blank slate, an opportunity to begin again, in the form of a bustling coffee shop where no one cares who you are, but everyone is delighted you're there. 1Percent is the neighbourhood café that spoils Ismailia coffeeholics by memorising their orders and being their dependable umbrella.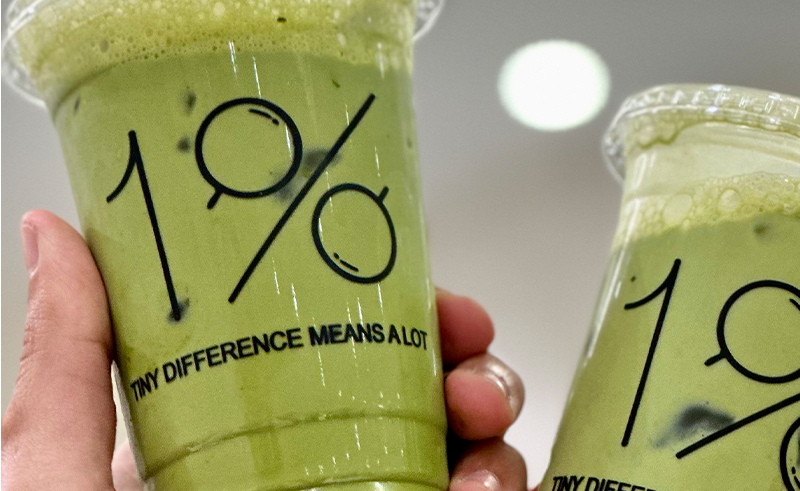 "A long time before 1Percent, I used to work at a car showroom at the same spot," tells us 1Percent founder & CEO Mohamed Gamal, "I used to sit and daydream about how it would feel to own that space. Fast forward to today, I do own the space iIn either one of their Ismailia-based branches, 1Percent welcomes cross-eyed travelers and practising caffeine addicts with open arms and a stacked menu of both caffeinated and non-caffeinated drinks, as well as hefty baked goods and explosive desserts. Enjoy a classic cappuccino or a sugary caramel frappe alongside a buttery croissant for delectable mornings or, better yet, settle on a favourite and be exempt from the need to pronounce it every morning.in the form of a coffee shop."
Believing firmly in the power of final touches, 1Percent is constantly keen on producing desserts that look and taste delicious, believing that this last touch, the last 1%, is what sets a dessert apart, a feat we can attest to with the coffee shop's chocolate praline.
Through much amiability and unfailing quality, 1Percent grew to be an Ismailia favourite, expanding and garnering a hardcore fan base across the town.