Whether you fancy Instagrammable brekkie food that'll make your blogger wannabe selves ecstatic or you want to gorge on pizzas and burgers -- dad bod style -- and live like it's last summer you'll ever experience (because it honestly could be tbh), we here at SceneEats have compiled the most comprehensive Sahel food guide, with over 50 spots, that will cater to all of your belly's needs all szn long, hunties.
BREKKIE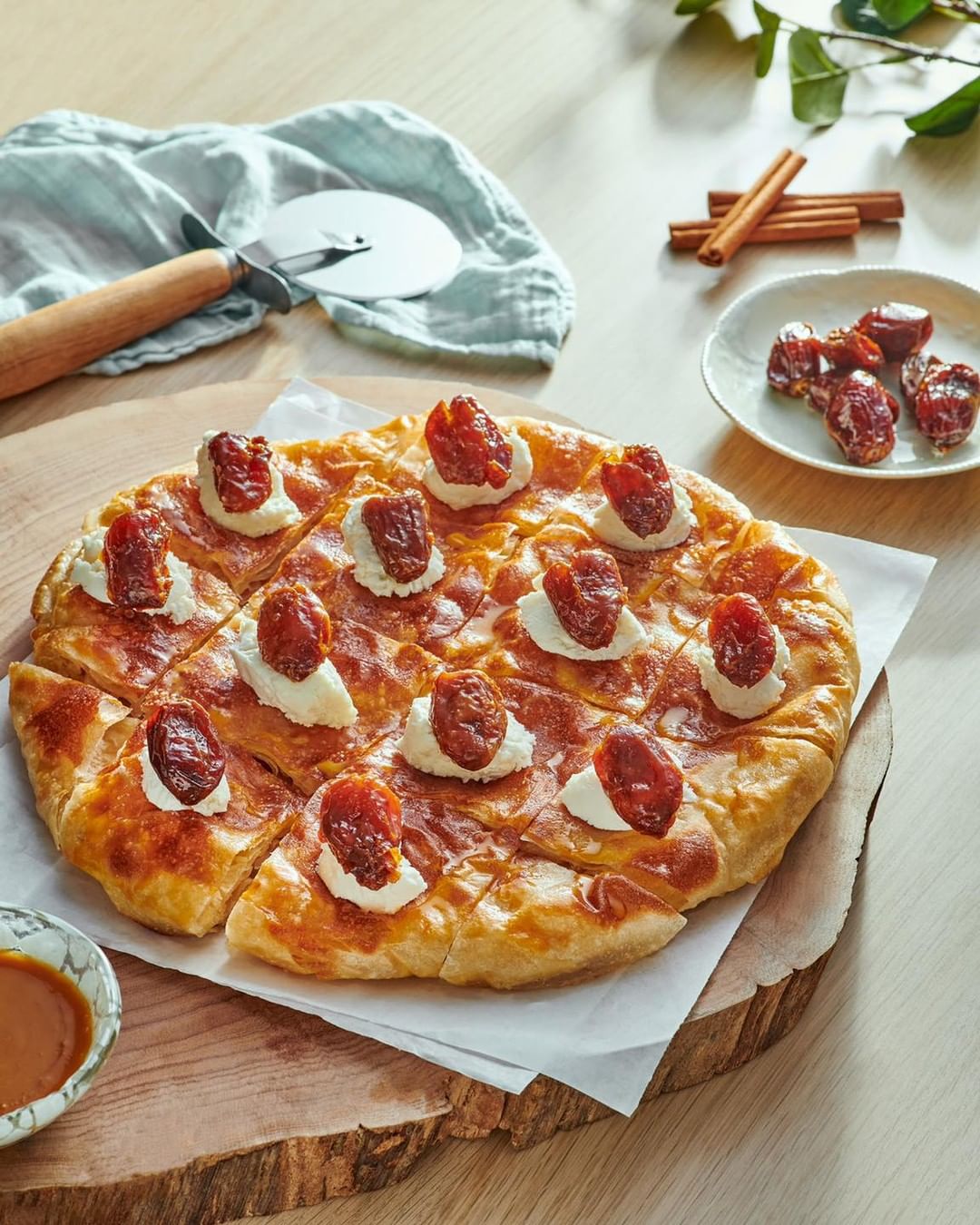 Fetiret Dina Farms
Sahel just got lokalised with the arrival of one of our fav Maadi breakfast spots. Indulge in all their elevated, unique breakfast and brunch inventions. What better way to start off an arduous day than with a hearty brioche pastrami scramble or their signature fluffy pancakes (pro tip: get them with Greek yogurt and molasses, you'll thank us later).
Phone: 01029353095
After outgrowing their milk phase, Dina Farms surprised us with their impressive feteer earlier this year. Now, they've brought their buttery, flaky layers of rich feteer to the North Coast seafront. Their dates and qeshta feteer is the perfect sidekick for a poolside lounge.
Phone: 01096466242
Their exquisite, hand-crafted desserts have made their way North this season. Treat yourself to their dazzling fine-dining service every day at 5 pm. Perfect for those Instagrammable sunset shots.
Phone: 02-228138303
BROWN NOSE ROASTERY // HACIENDA WHITE, MARASSI, ALMAZA BAY
Coffee connoisseurs unite. Get your daily caffeine fix on-the-go with their premium, sophisticated bottled cold brews so you can start your summer mornings better.
Phone: N/A
30NORTH // LAKEYARD, DIPLO, SUNSET BOULEVARD
Treat yourself to one of Egypt's most luxurious specialty coffee brands. Iced coffee has always been a summer essential and 30North is delivering the absolute best version of that. Couple that with one of their delectable sweet sidekicks like their matcha cheesecake and you're already on your way to having the best summer ever.
Phone: N/A
Originating from Beirut, Em Ali has made it to Sahel to make sure we all have our Lebanese brekkie fantasy.
Phone: N/A
HEALTHY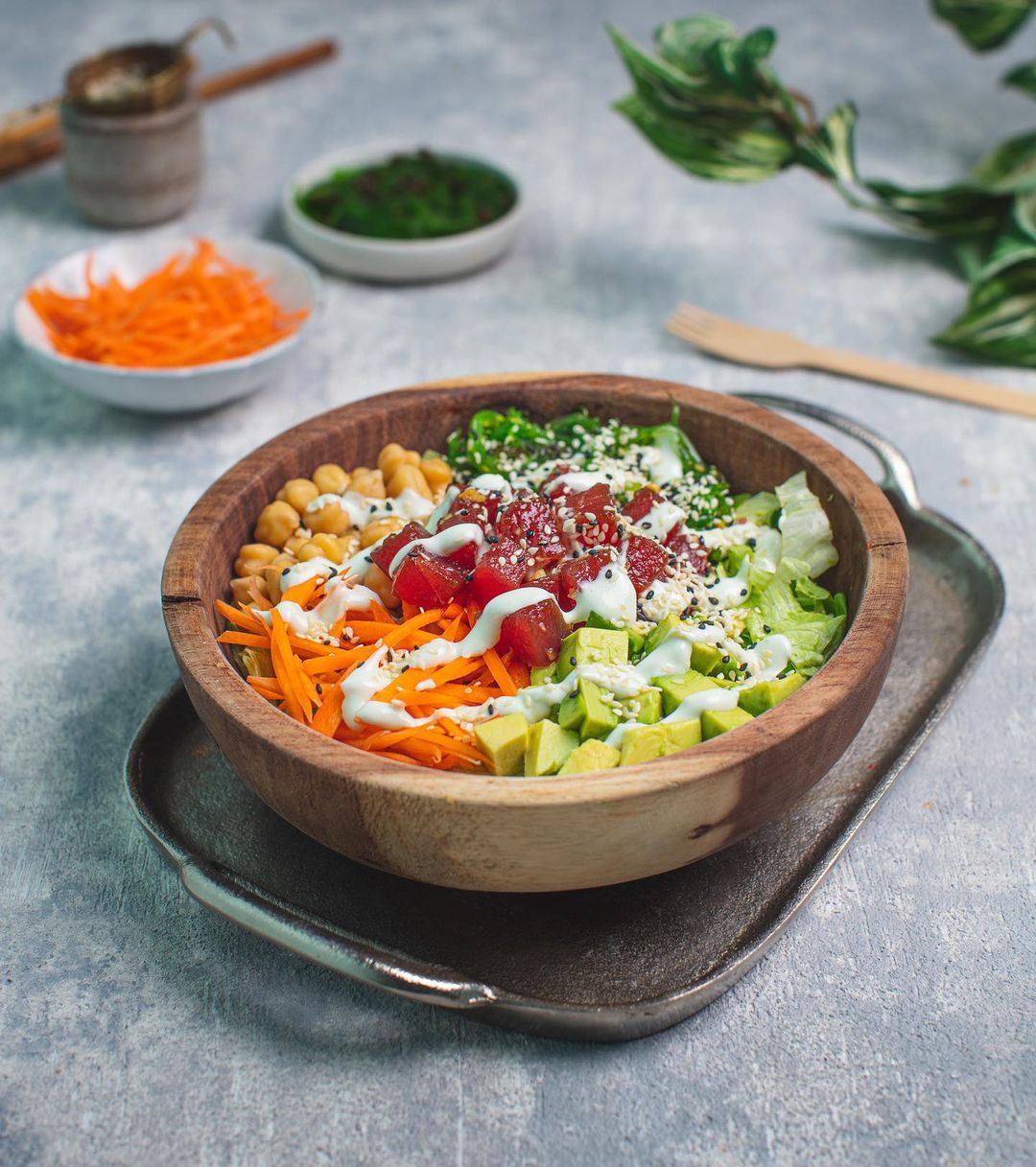 Let's Poke
ABU AUF // LA VISTA, STELLA, AMWAJ, (ANY) MARINA
Get nutty and caffeinated with Abu Auf's fine repertoire of fresh nuts, coffee blends, dried nuts and other light and nutritious snacks. Catch them all over Sahel from La Vista to Stella to Amwaj to literally like all the Marinas.
Phone: 19969
A sandwich shop that needs no introduction. You know the drill. Come in for perfectly-toasted, wholesome on-the-go sandwiches, leave with a few extra sweet delights like their iconic Nutella croissant or their pistachio frappe.
Phone: 16679
BE GOOD TO YOU // HACIENDA WHITE
Health kweens rejoice. No hot girl summer is complete without a health pit-spot to make sure your body is getting nourished and replenished. Be Good to You wants you to take care of yourself with their superfood bowls, low carb sandwiches and fresh-pressed juices. Their menu is brimming with loads of vegan and keto friendly foods to keep you fueled all summer.
Phoen: 01270748868
SELF JUICERY // DIPLO, HACIENDA
Press reset and recharge with Self's signature freshly-squeezed juice blends, colourful salads loaded with antioxidant-rich ingredients and fresh veggies. To be honest, nothing sounds more beach-perfect than a rejuvenating orange + turmeric + ginger drink.
Phone: 01011104422 / 0127361007
Making a big splash on the shores of the North Coast for the first time, Let's Poke is bringing its signature Hawaiian delicacy all the way to the beach (where it obviously belongs). How was this never a thing before? We're feeling all the tropical vibes this summer.
Phone: 01128260747
COMFORT FOOD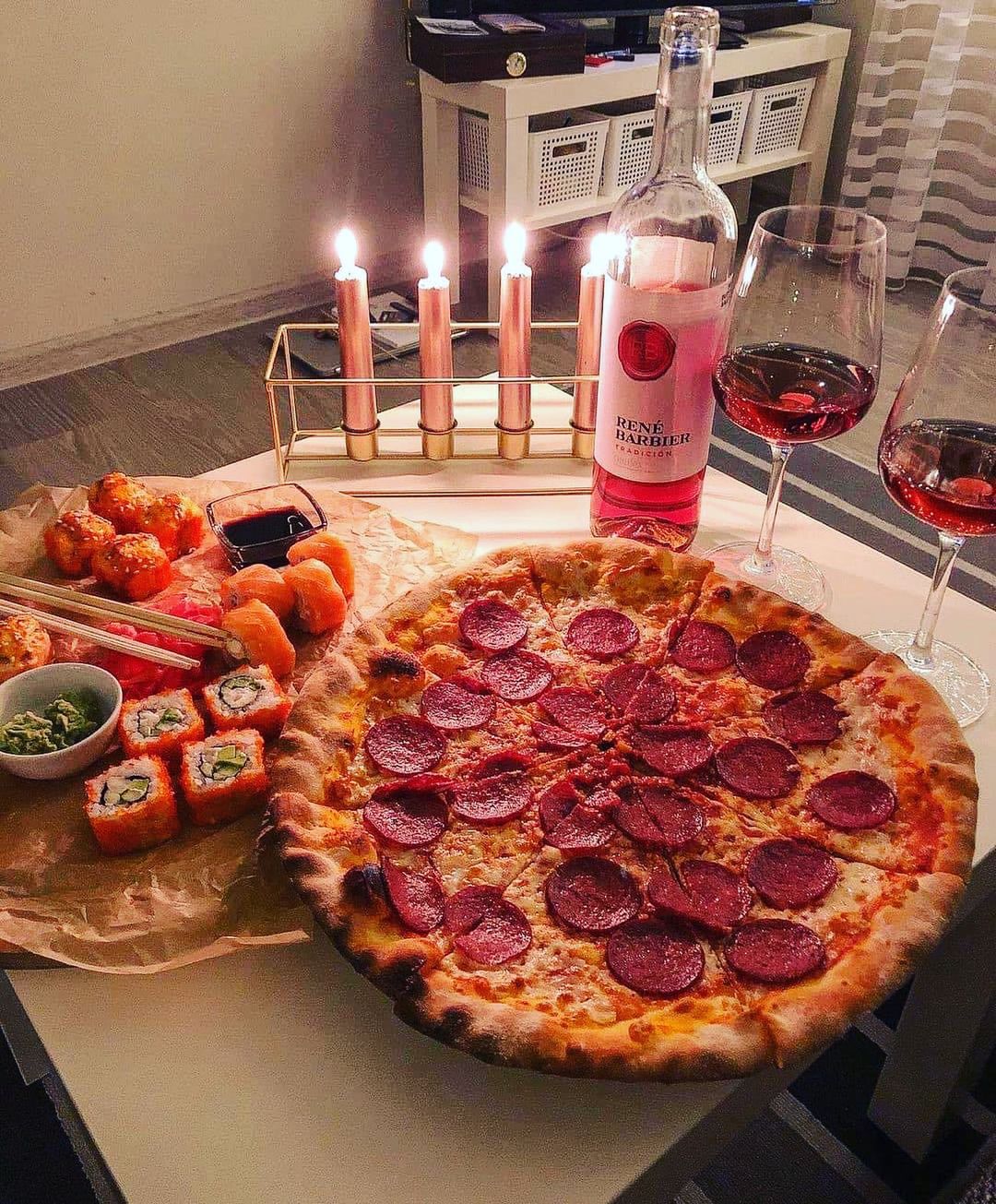 Pizza Station
This cute and quirky spot serving up the juiciest burgers and the fluffiest donut explosions took Sahel by storm last year and are back this year with new exciting flavours that'll keep beach goers coming back for more.
Phone: 01022197733
Take yourself down nostalgia lane with Chili's wholesome, family-fun vibes. You can never go wrong with their massive menu of decadent dishes and feel-good eats -- especially their boneless chicken wings. Yalahawi!
Phone: 19002
The newest kid on the Italian cuisine landscape, Panzini is bringing their authentic Italian street food to Diplo this summer. Bringing new delicacies to the heart of Sahel like the panzerotti, this new shop is already changing the game.
Phone: 01278772665
They're called Flame because they are the fire emoji personified. Think pop-ups taken to a whole new level that also happen to be Instagrammable af.
Phone: N/A
Nothing screams summer more than tacos (and margaritas) and that is exactly what Gracias is bringing to the table this summer. Their simple tacos, made with fresh ingredients and creamy sauces must be followed by their perfectly swirled churros.
Phone: 01225796925
BRGR TRUCK // DIPLO, HACIENDA, TELAL, SEASHELL
Perhaps one of the most iconic spots for chowing down on some banging ass sliders, BRGR has spread its wings and made its way all over Sahel. Check out their absolutely gorgeous newly-renovated joint at Diplo for a real treat.
Phone: 15646
With a name like that, you know you're in for a hearty and heart-pounding meal. Load up their custom wraps with whatever the eff you want. Fill up on delicious burgers, chicken and sausage, topped with delicious sauces and French fries for when you need that extra push.
Get your fried chicken mood on with Wing It's wide array of all things deep-fried. From finger-licking boneless wings to saucy wraps, Wing It is coming in hot this summer and we're ready for the heat.
Phone: 01270909386
Fresh in the burger game, Fat Sliders' juicy moo (beef) and coo (chicken) burgers talk a big game. Doctored up with mouthwatering sauces and accompanied by crispy crinkle-cut, these juicy babies are perfect chargrilled goodness.
Phone: 01028817827
You're in for a gluttonous meal with their extra-large fried chicken sandwiches that we guarantee you won't be able to finish. Topped with everything from oozing mozzarella sticks to massive crispy onion rings, these sandwiches are the perfect late night binge or midafternoon hangover remedy.
Phone: 19803
When times get hectic, you're hungry and have no time to sit down or make anything, Pasta 2 Go comes to the rescue with their express pasta service. Get yourself a piping hot, creamy cup of bangin' pasta and get going with the rest of your beachside shenanigans.
Phone: 16252
Hot, fresh and ready in what seems like an absurdly short amount of time, Pizza Station is always there for us when we're hungry NOW. Their iconic fluffy crust will carry you to the shores of cheesy heaven. They also sell their pizza in slices if you're about dat life.
Phone: 01111115603
A perfect beach day can only be made better by freshly-made, fire-roasted crispaayyy pizza. Don't just come for the pizzas though, be sure to treat yourself to their luscious burrata salad—a decadent yet balanced meal that'll have you recharged and ready to face the night.
Phone: 16685
When you're already meltin' by the sea, drop by for another heart-melting mac n' cheese indulgences. You can even pair 'em up with some sea salt chocolate delights from Salties if you want to be adventurous.
Phone: NA
BBQ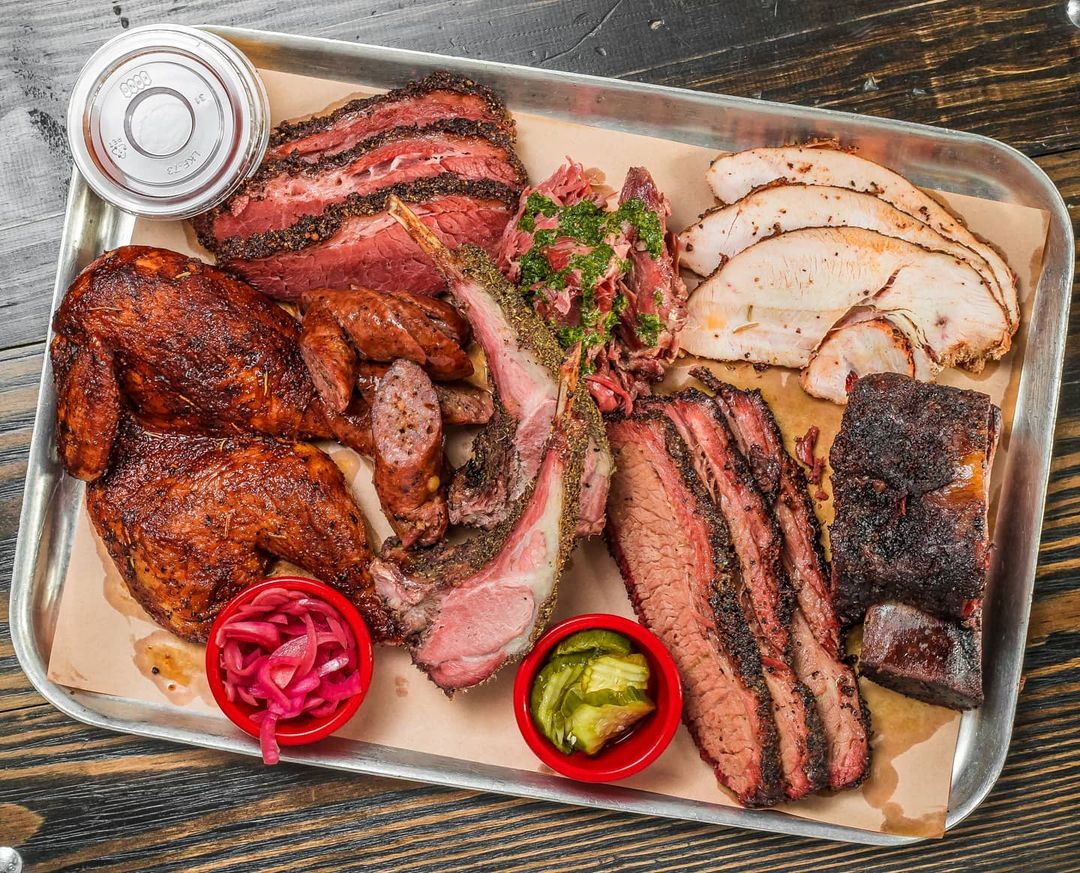 Longhorn Texas BBQ
Nothing quite says summer like the smell of a grill. The smell of charcoal, smoked juicy meats, that warm sea breeze—Longhorn Texas BBQ's new rooftop spot at Diplo Clubhouse encapsulates the vibes of those nostalgic summer BBQS by the beach. Go for their brisket, please!!!
Phone: 01065524466
Quaint, super chill, encapsulating those mystical Egyptian vibes with their charcoal-grilled meats, Mistiqa is a quintessential summer spot we crave year round.
Phone: 01220555550
These provocatively juicy meats are cooked live, literally right in front of you on an open fire in their signature BBQ stations powered by OFYR outdoor equipment that always steals the show. Chef Mario Aoun infuses his Lebanese and Brazilian roots into the heart of BBQ Bros, flaunting impressive grilling skills and juicy, perfectly-cooked meat.
Phone: NA
SEAFOOD
Seafood by the sea just hits different. The fish is as fresh as can be and Asmak lets the ingredients speak for themselves with their experts handling kol 7aga.
Phone: 01050519090
Swooning us with their cornucopia of seafood bags and extra crunchy fried seafood baskets, Clams & Claws is back again for another fish-tastic summer and we're in for another swimmingly delicious season.
Phone: NA
This new entry to the food scene of Sahel is, to put it simply, a smoke n' roll sandwich shop. Meaning: lobster rolls all the way.
Phone: NA
There are many ways to enjoy seafood but we all know the FRIED seafood just hits your taste buds' G spot. Mario's seafood sandwiches and light bites all feature their signature light and crispy batter. They have a range of crispy fries including gamberi fritti (fried shrimp) and pesce fritto (fried fish) served in really cute paper cones. They said no more boring ass fries as a side and we're here for it!!
Phone: 01061070382
HOSNY // DIPLO
The king of all things grilled and all things seafood, Hosny never disappoints with their no-frills charcoal grilled cuts of succulent meats and their fresh catches from the sea. Come for their big portions and homey vibes.
Phone: 18943
Yes, we know Maine throws it down with their juicy ass burgers but honestly it's their lobster rolls that really send us. Perfectly succulent stuffed in their signature buttery buns. Wash down all their rich seafood delights with some of their signature creamy milkshakes.
Phone: NA
GALAMBO // HACIENDA WHITE
The IT place for all things seafood plus their decked-out bougie ass bar, this Mediterranean swanky restaurant is blessing the beaches of Hacienda White with their upscale dining experience.
Phone: 01000004892
MIDDLE EASTERN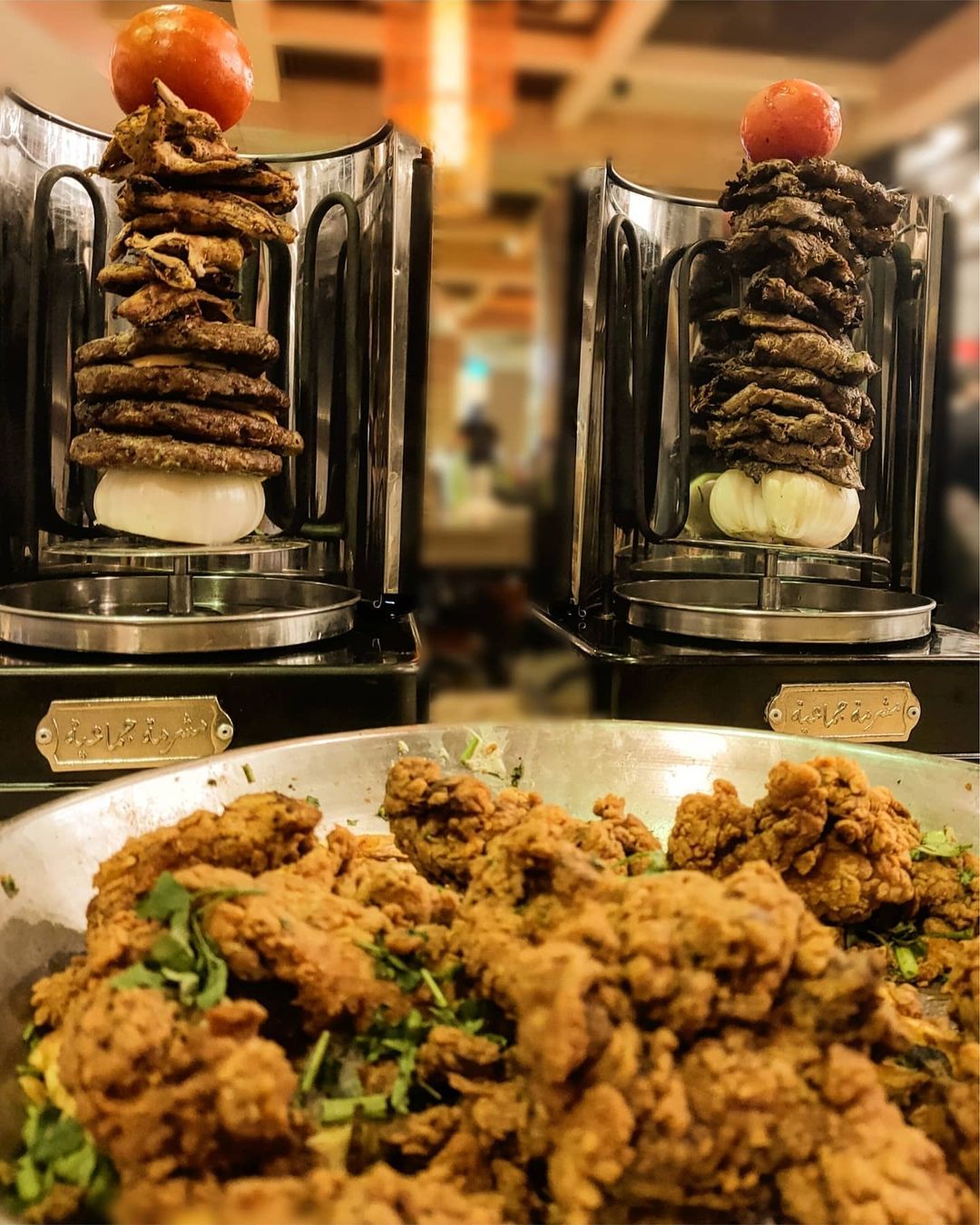 Labash

Bringing the best that Turkish cuisine has to offer, Turcia impresses with their tantalising flatbreads, zesty salads and exceptional grilled meats made in traditional Turkish fashion. Their must-try dish is the appetizing, fall-of-the-bone eggplant lamb shank. That dish alone will have you coming back for more.
Phone: 01288883863
Bring a voracious appetite and get ready to get down and dirty with Labash's mouth-watering fried chicken and shawarma extravaganzas. Their sag bread is the perfect vehicle to carry all those delicious meats and sop up all those juicy sauces. Gather the gang and head over for one hefty meal.
Phone: 16252
This needs no introduction. You know this spot for its extra-rich bowls of oozing cheese, loaded with delicious, perfectly-spiced meats—a perfect way to sober up after a long night of drinking.
Phone: 19128
Serving up all your favv street foods in style, Yalmaz is your quick go-to shop when you're looking to load up on Om El Donia's delicacies without breaking the bank. Dig into their crispy sogo2 hawawshi or their bite size shawerma served on toasted kaiser buns.
Phone: 01114441575
Queen Tamara is back again—a Sahel staple brightening up all our sunny beach days. The Tarwi'2a box is the perfect beach sidekick making all your breakfast by the sea dreams come true.
Phone: 16885
EM ALI // SEASHELL
Hailing from the streets of Beirut, Em Ali is making its North Coast debut, bringing us their signature gluten-free saj to wash away all our sorrows. Dig into their dizzying array of spice meats and get your dose of healthy greens at this newly-opened spot.
Phone: Coming soon
ASIATOWN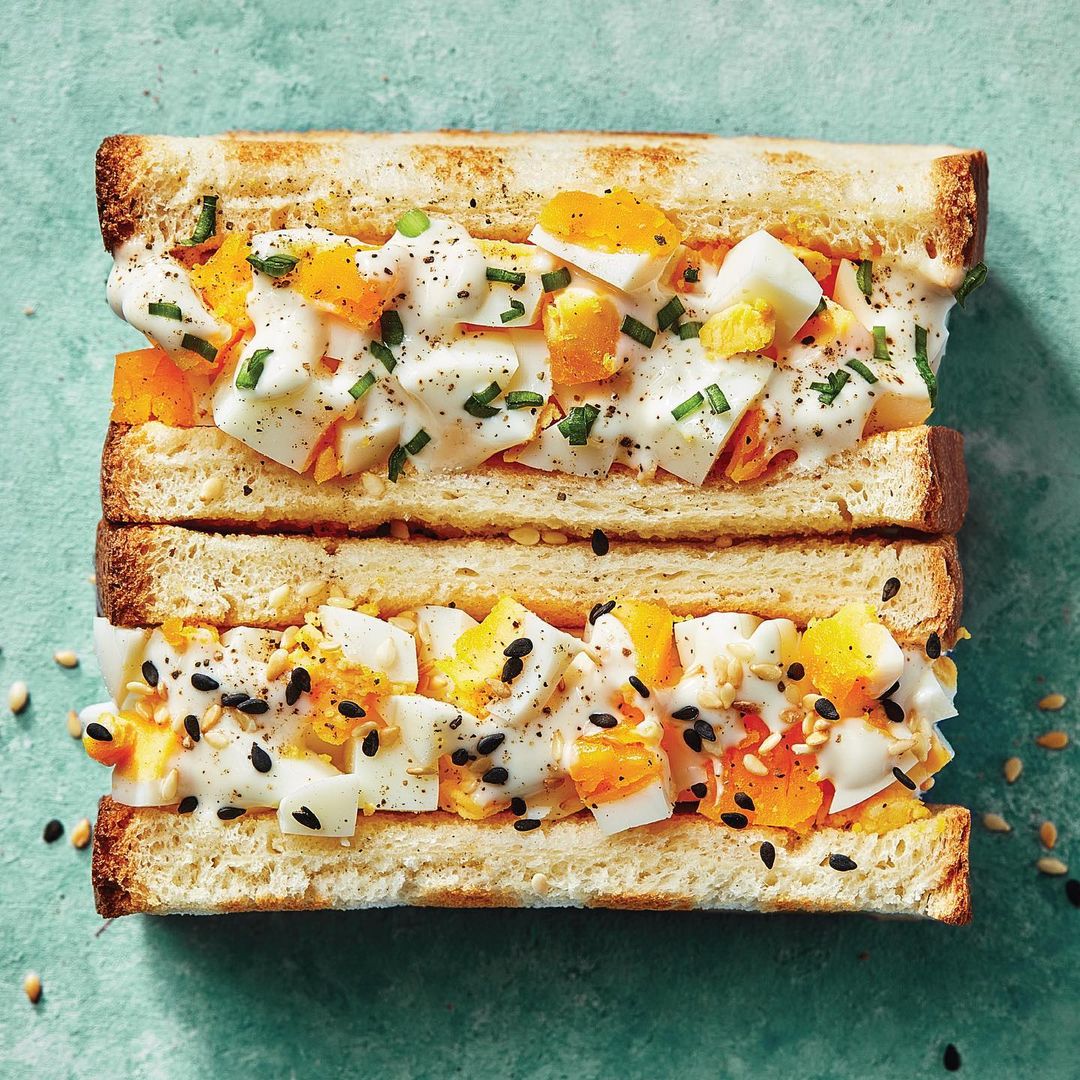 Sando Haus
The cornerstone of Chinese cuisine in Egypt, Peking has the best wholesome meals—from their sweet and sour chicken to their array of supple dumplings and sizzling meats.
Phone: 16078
Another newbie bringing Japanese sandwiches to the heart of the North Coast, Sando Haus is stacking up layers of juicy meats and unique sauces and sandwiching between two golden brown, buttery toasty buns. Their King's Katsu Sando layered with crunchy panko beef fillet and drizzled with tangy sweet tonkatsu sauce and Japanese mayo is an overwhelmingly delicious culinary treat.
Phone: 01023347760
Roll, roll, roll your boat merrily down the sushi stream with Mori Sushi's signature sophisticated sushi. Beach = fresh seafood, so make sure you order lots of sashimi and nigiri.
Phone: 16885
WOK & WALK // HACIENDA, MARASSI
Saucy noodles and succulent meats are the motto at Wok & Walk. When you're craving some stir fry, not tryna spend a fortune, this is the spot to drop by. Make sure to try their ramen noodles. In fact, they're the only noodles you should ever try there because they're so effing good.
Phone: 19548
BOUGIE AF
MYU - the famed rustic Beirut-born gem serving up fresh Mediterranean fare - has just opened on the shores of the North Coast at Marsa Matrouh Sidi Heneish. Part restaurant, part bar - and as is often the case in Sahel - part after-dark hangout, it's the latest brand to be brought to Egypt this summer by prolific events organiser and now restaurateur Rabih Mokbel.
Phone: +2 0110 233 4444
Our absolute icon of a Zamalek spot that serves Nile-side upscale dining realness now has a Sahel counterpart that is bringing the same class, luxury and pristine cuisine in their prime seaside spot. Get dolled up and splurge on Crimson's world-class plates and exquisite cocktails.
Phone: 01206999923
A new experience straight outta Lebanon from Sky Management themselves to Om El Donia's cool cats. SAX infuses fine dining with live music in a picturesque location to give birth to one of a kind experience. What you need to know about SAX is their lounges that look like love bird cages. We stan.
Phone: NA
Monkey Bar migrates all the way from Cairo to the North Coast for the first time so that the monkey tribe doesn't feel left out this summer. Expect the same superb ting but make it Sahel.
Phone: NA
KIKI'S BEACH // HACIENDA WHITE
Okay so, as the name suggests, this is the kinda place where one goes with their squad to kiki. That's all you need to know tbh.
Phone: NA
Good vibes, good food and spectacular ambiance are the recipe for the Smokery's success. Soak up the sun, indulge in their delicious tapas and seafood pasta dishes like their Lobster Ravioli or their caramelised octopus.
Phone: NA
Prep yourselves for an extraordinary experience that's all about next-gen loungers and nightlife stans. One word: cocktails. PLEASE TRY THEM!
Phone: NA
Binge, Mezcal, Gigi's and Izakaya have a new summer sister and her name is Chiringuito. She serves Perviuan vibes and we're all here for it.
Phone: NA
For loyal Sahel goers, you know Eatery is the wholesome, comfy spot you head to when you're craving a well-crafted meal with an inventive twist. Eatery always delivers and to us, it's our safe pick for a family-friendly lunch or intimate date. If you haven't tried their wasabi shrimp pineapple (literally served in the most extravagant way), you're missing out.
Phone: NA
SACHI BY THE BEACH // HACIENDA RED
The pioneers of Asian-Mediterranean fusion fine dining, Sachi by the Sea not only flaunts an exquisite menu full of beautifully-plated, carefully-executed dishes but also has a stunning design, coming to life at night with its lively and boisterous atmosphere.
Phone: 01030030055
Get zesty in style with Lemon Tree's iconic zen experience. Decorated with warm earth tones, Lemon Tree is the ultimate sanctuary with a chic, upscale menu, stellar service and pristine sandy beaches.
Phone: NA
MYU // SIDI HENEISH
A new Mediterranean beach-side eatery, MYU is more than just a restaurant. It also serves a stunning bar and club. This serenely beautiful spot in the heart of Whitebay is the perfect getaway from the hustle and bustle of Sahel.
GROCERIES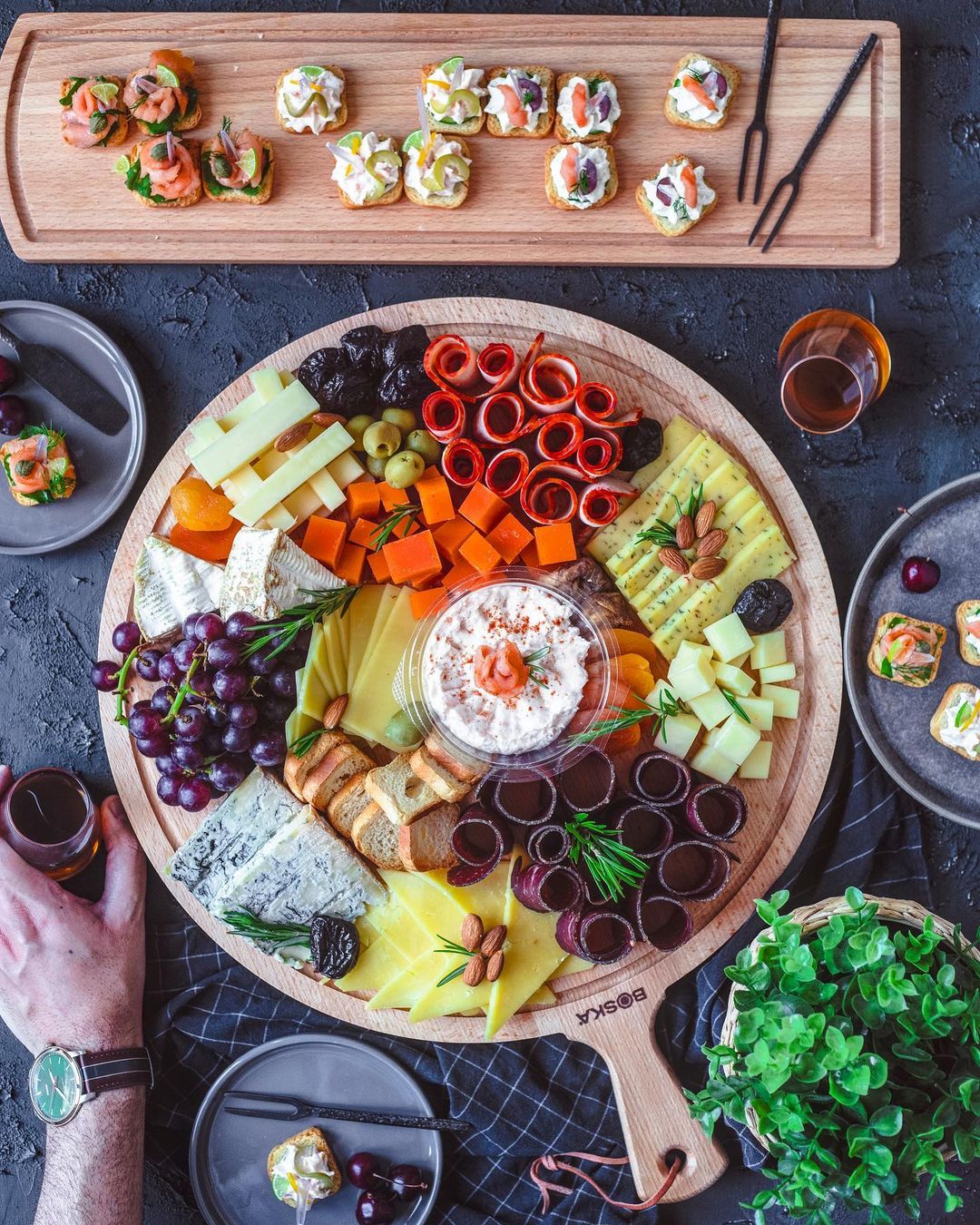 Super Deli
THE GROCER // MARASSI
Everyone's fav awesome supermarket has decided that to grow another baby other than its Sheikh Zayed and Zamalek ones and give birth to a new branch in Marassi's Marina. We have no choice but to stan!
Phone: 19393
Our fav bougie supermarket always delivers with their vibrant array of fresh produce, delectable deli items, imported products and artisanal frozen foods. Looking to whip up an impressive meal for a post-beach affair or a late night snack, Gourmet's got you covered.
Phone: 19339
Summer vibes are best accompanied by wholesome food, bursting with freshness. From farm to table, AlMazr3a is delivering everything from organic produce to fresh dairy products to ready-to-bake kits and everything in-between. Liven up your seaside cooking with only the freshest, highest-quality ingredients.
Delivering fine cuts of the most succulent meats to spice up those quintessential summer BBQS, this seasoned butchery has the best meats in town.
P.S their special marinated butter bursting with aromatic herbs is going to change your whole grilling game.
This online food store wants you to elevate your home cooking to new extremes. Offering only the finest products from all over the world, Super Deli has got all your cooking needs covered. Also, they have a wide range of kitchenware and tableware for when you're in a pinch.
SUGAR, SPICE & EVERYTHING NICE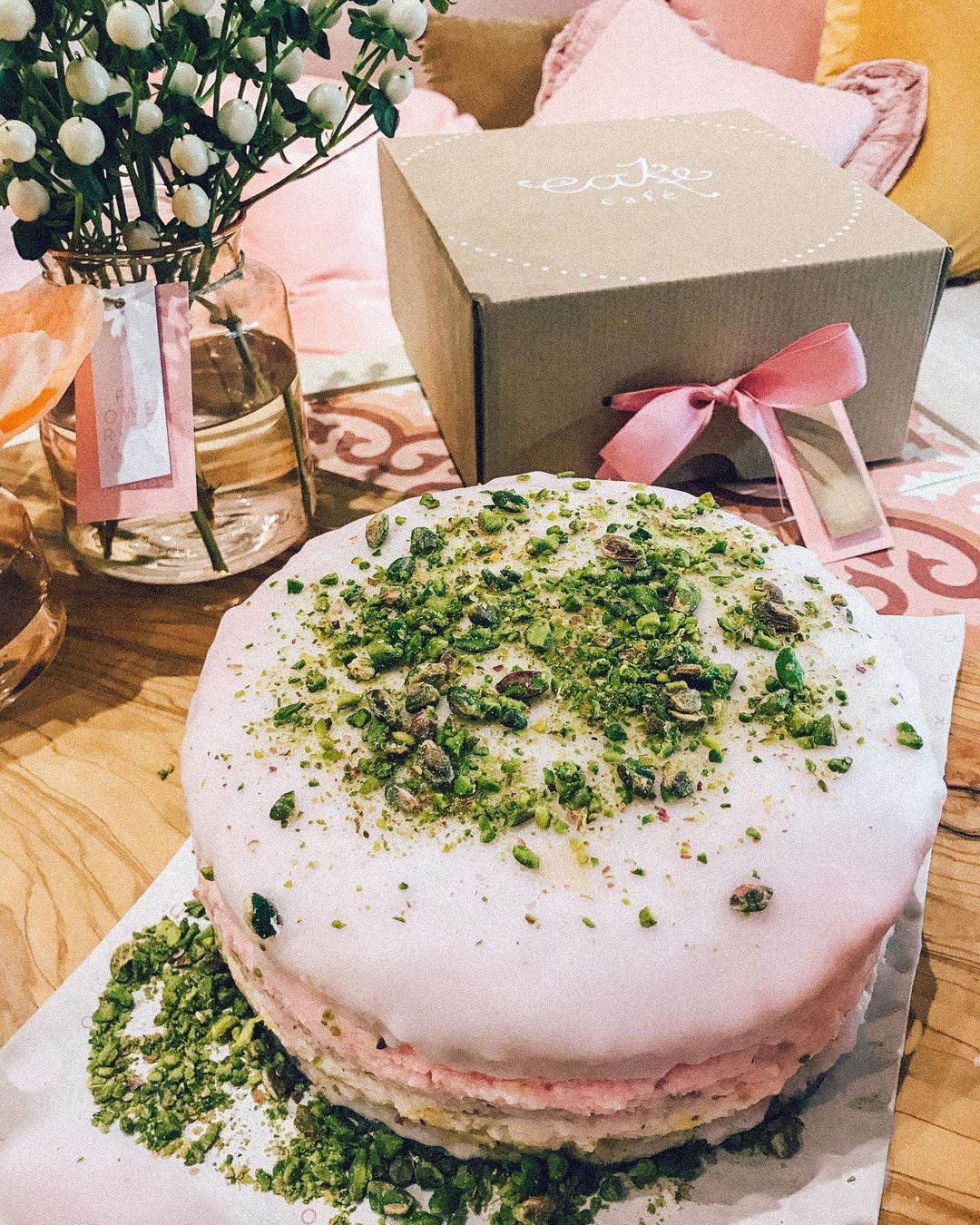 Cake Cafe
Delight your senses with Sedra's extravagant cakes and picture-perfect cupcakes, doctored up with delicious fruit and tantalising creams.
Phone: 01050469100
What makes B.Laban different from any other store making roz bel laban? They use fresh whole milk and authentic samna balady to make all their signature desserts. From their decadent Om Ali to their wide range of house-made ice cream, B.Laban is making sure you get your sweet fix this summer. But don't let those items distract you from the real star: their amazingly creamy, delightfully rich, "I can't put down my spoon" roz bel laban.
Phone: 15761
Nola is always surprising us with their inventive confectionary delights and this year, we can't wait to see what they have in stock for us. We'll be updating you as soon as they spill the tea.
Phone: 16714
Vibrant cakes with big personalities, Cake Cafe's house-made range of dazzling cakes, served up by the slice. But don't come just for that, dabble in their light bites and artisanal sandwiches when you're looking for a pick me-up.
Phone: 01032008666
THE BATTER HALF & CO. // MARASSI
Speaking of pick me-ups, the Batter Half & Co's creative confectionery creations from their creamy brownies crème brule to their extravagant Nutella pizza, there's something to satiate anyone's sweet tooth.
Phone: 01078008563