We can't think of a better way to celebrate summer (from our homes because that's where you should be) than with a nice, juicy hamburger...but with a twist. Whether you fancy something that could potentially break your jaw or with actual Doritos (because that's totes a thing), there's a burger for every mood here. All you have to do is pick up the phone and get dem meats delivered to your doorstep.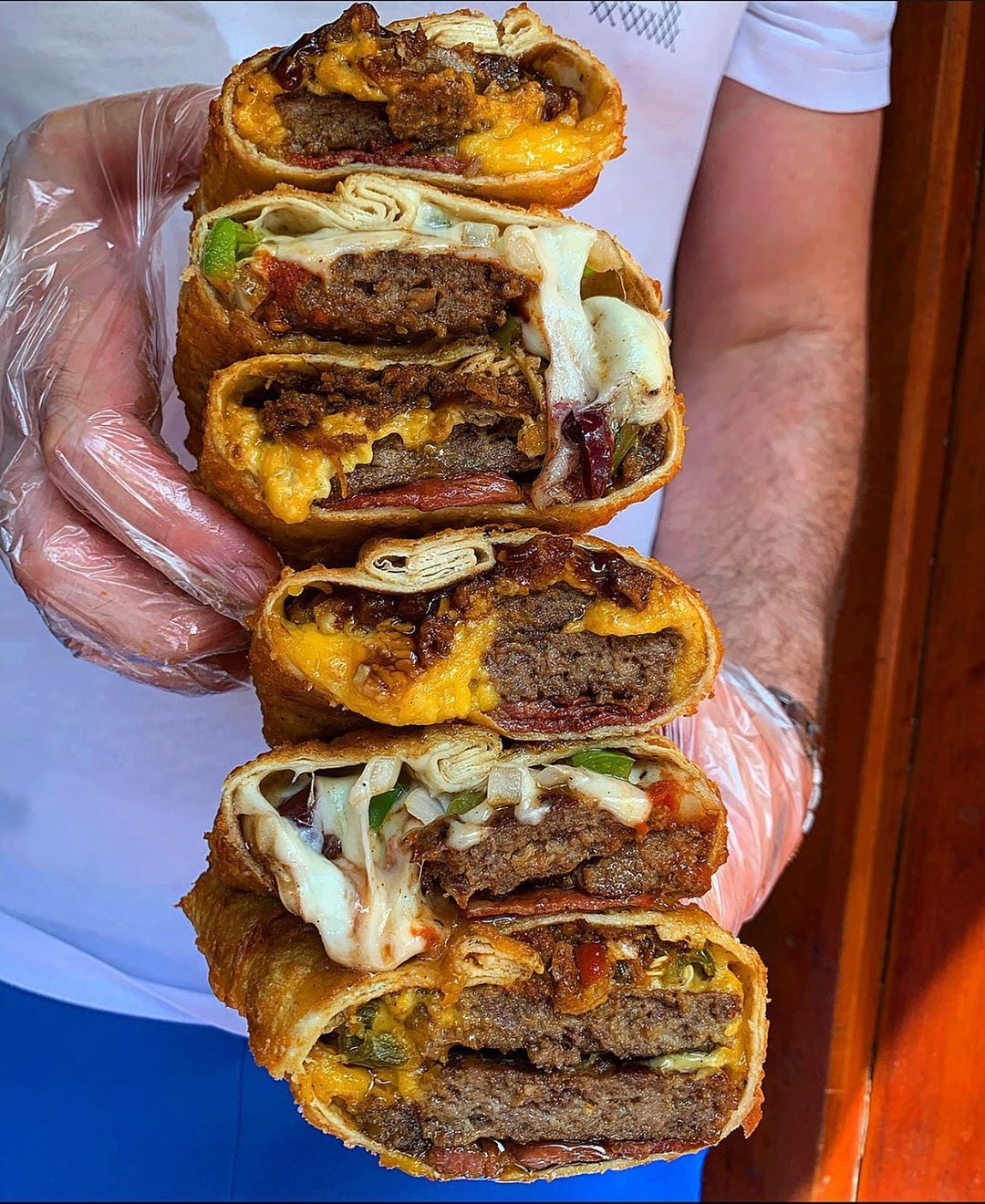 Nacho Burgers sound like something we just came up with. We'd like to inform you that we absolutely did not. Your burger is basically wrapped in tortilla bread and heavenly fried and filled with cheese that can be yours for the price of EGP 48. Dial up that hotline, 19256, to up your burger game.
SceneEats Tip: Get two because you'll want to experience the first one all over again after you finish it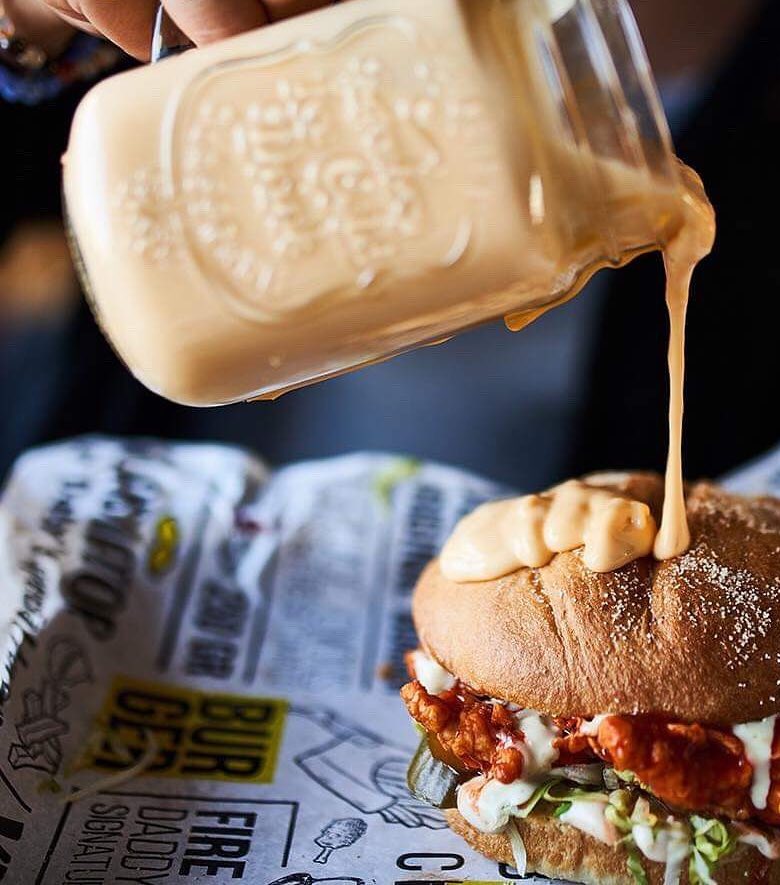 Have you ever dreamed of having a jug of cheese? Well, we have and you can have that with Daddy's Burger. Basically, upon ordering their Volcano Burger (which costs, like, EGP 120), it'll automatically come with an actual jug of cheese to literally pour all over your burger. Now that's a Daddy!. Call 16698 and prepare to have your life changed.
SceneEats Tip: Ask for an extra jug of cheese because duuh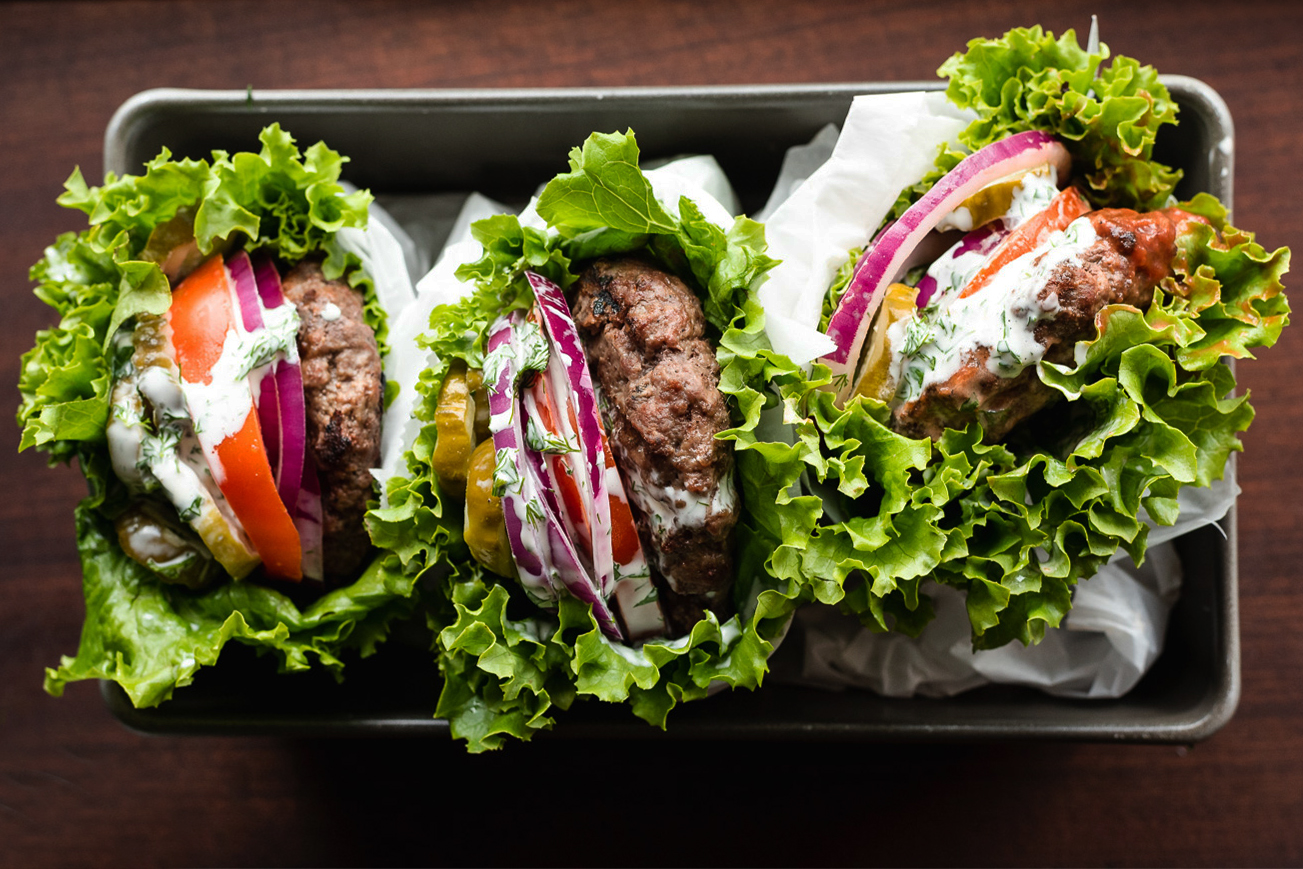 Lettuce eat burgers with Max Burgers' Lettuce Burger. Sorry about that pun. We just had to. K, now that we're over it, healthy gurus can now rejoice in the fact that Max has got their backs and non-existent bellies' best interest, thanks to this bunless burger that will only cost you EGP 95. Ring 'em on 19065 and yalla.
SceneEats Tip: We recommend pairing this burger with Max's Halloumi Burger for all vegetarians and vegans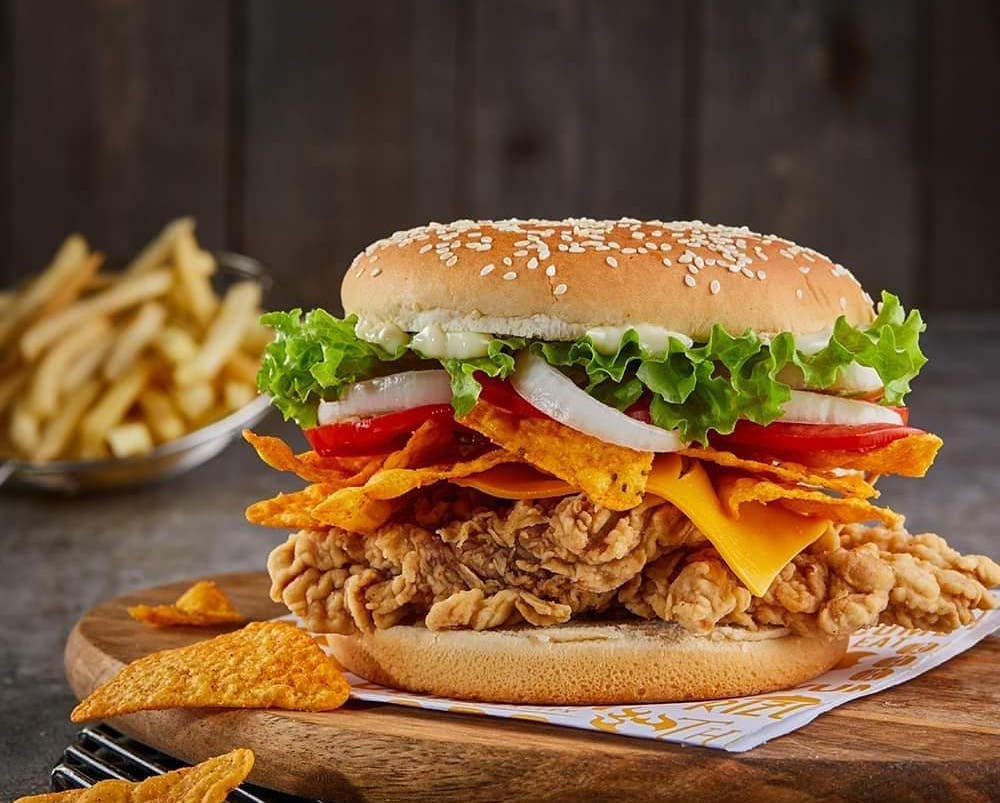 Do you like burgers? What about Doritos? If you answered yes to both these questions then Kansas' Doritos Burger is what you should order right now. All you need to do is call 16213 to get your crunchy game going for EGP 52.
SceneEats Tip: If you don't like Doritos, brave yourself up a little bit and try this invention from Kansas -- it's a game-changer
Jaw Breaker by Zack's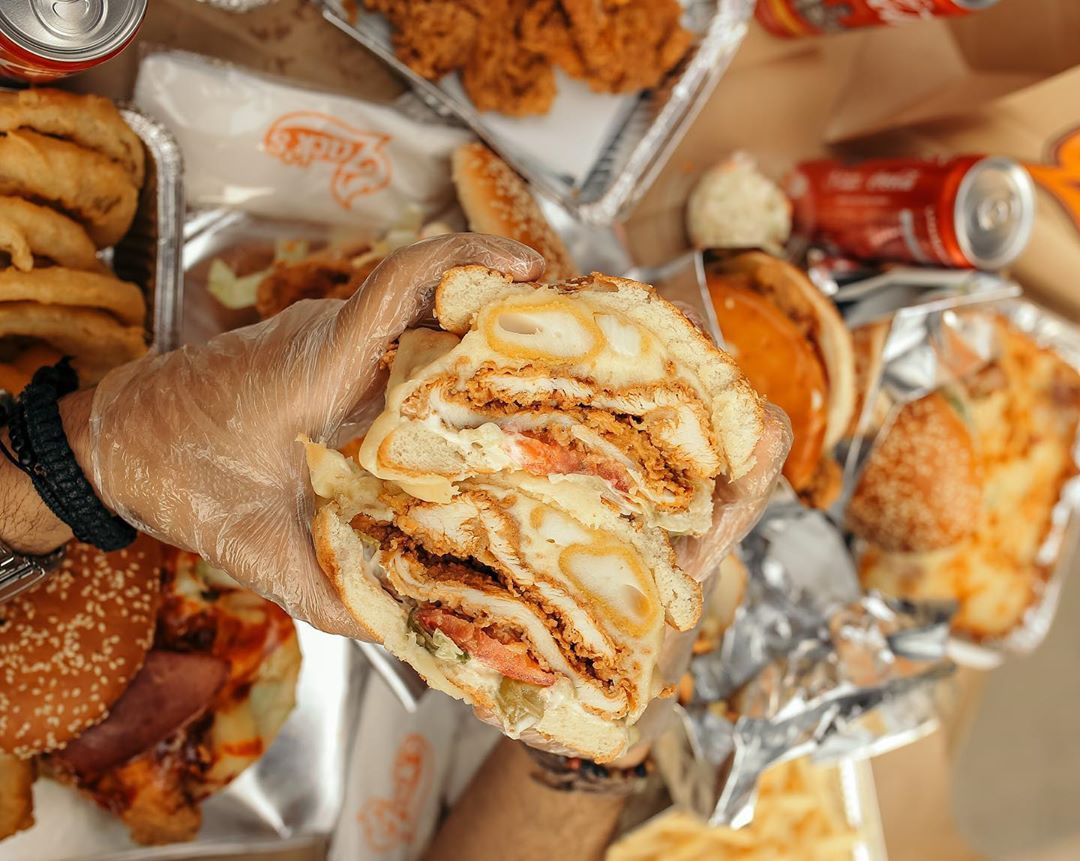 This burger is so big it's full of secrets. The aptly-named Jaw Breaker will probz break your actual jaw if you don't go a bit easy on yourself when devouring this delicious bad boy that's all about fried chicken, beef bacon and cheese. For EGP 65, the Jaw Breaker could be yours, you'll just have to get over your phone call anxiety or get a friend to help you call 15198 to make your order.

SceneEats Tip: This burger is not for everyone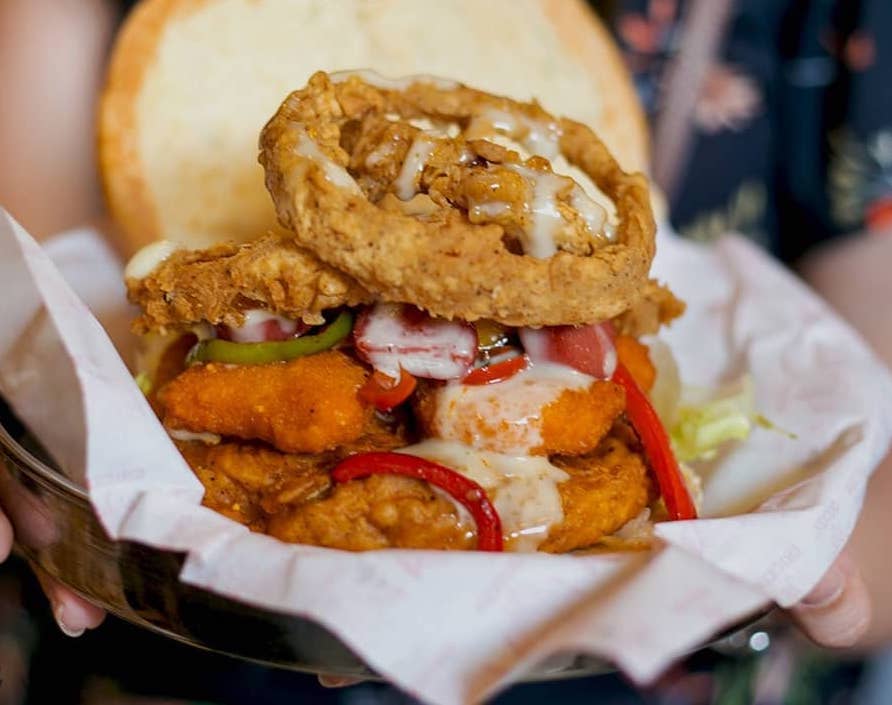 Imagine stuffing your buns with fried chicken, hot dogs and onion rings. Well, that's what you get when you order a King Kong from Chicken Fil-A. The name says it all. All these pieces of fried goodness are yours for EGP 74. Hit up 19803 for your next responsible and very socially distanced meal at home.
SceneEats Tip: Ask for another patty of stuffed fried chicken because why not?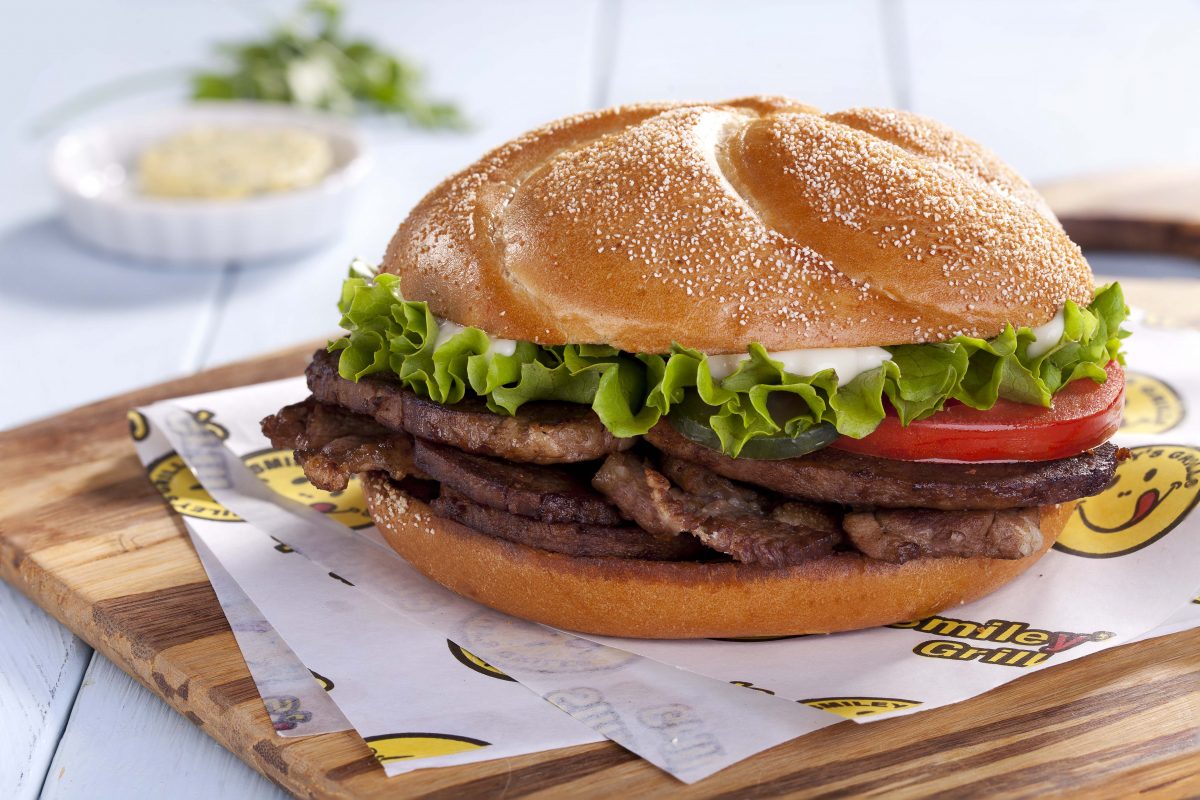 Besides the obvious burger patty that Smiley's Grill masters, they have that steak burger that you definitely don't find at every burger joint here in Om El Donia. What makes this Steak Burger stand out from other steak burgers is its secret ingredient: garlic. Oh, and how affordable it is because it's for EGP 97. You can place your order through their website or call them on 16070.
SceneEats Tip: Make sure to pair your steak burger with some fries, cause after all, it's still a burger.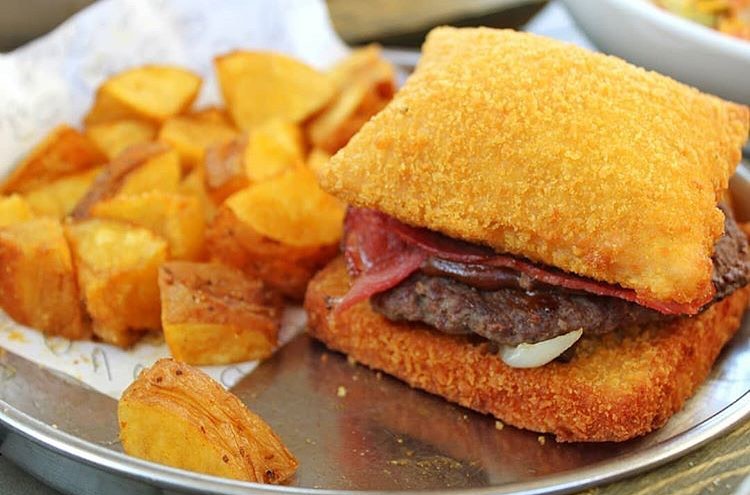 Okay, girls, it's going to get messy because y'all will be screaming "OH MY CHEESUS" when you have a taste of Eish w Gebna's The Mess. In a nutshell, it's a regular burger, except you have fried cheese as your buns. To get your hand on dat melting cheese buns, you'll need EGP 95 and to also call 01008000291.
SceneEats Tip: Get yourselves lots of tissues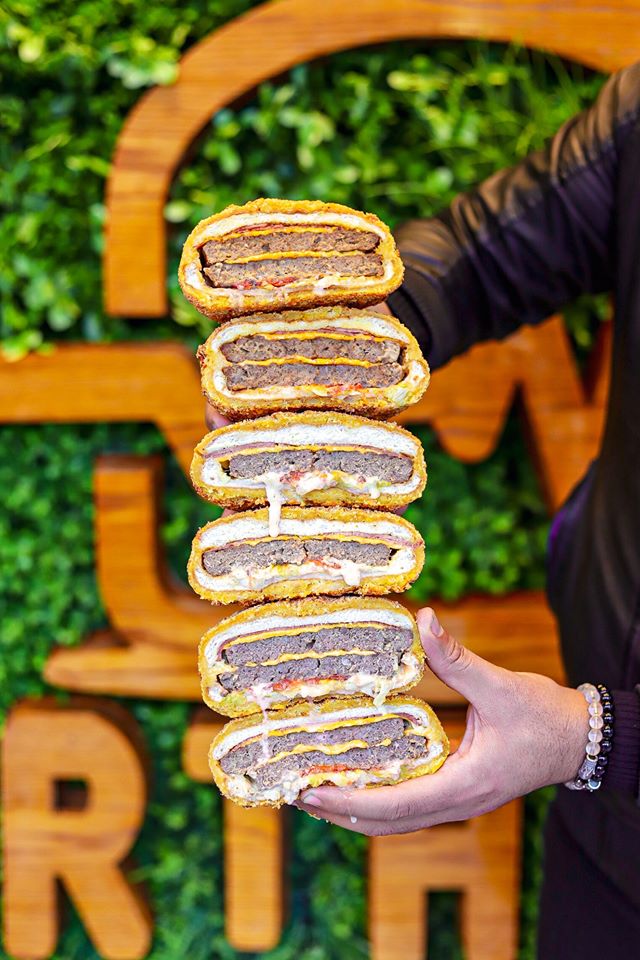 This burger is named after the actual restaurant because it's the most important thing on their menu. Expect two beef patties with a ton of cheese and beef bacon inside dem burger buns...but they're all deep fried with one another. Oh, and it comes with a jug of cheese. Call Heart Attack on 15428 and order yourself this burger for EGP 125.
SceneEats Tip: You can also go for a single patty burger if you want to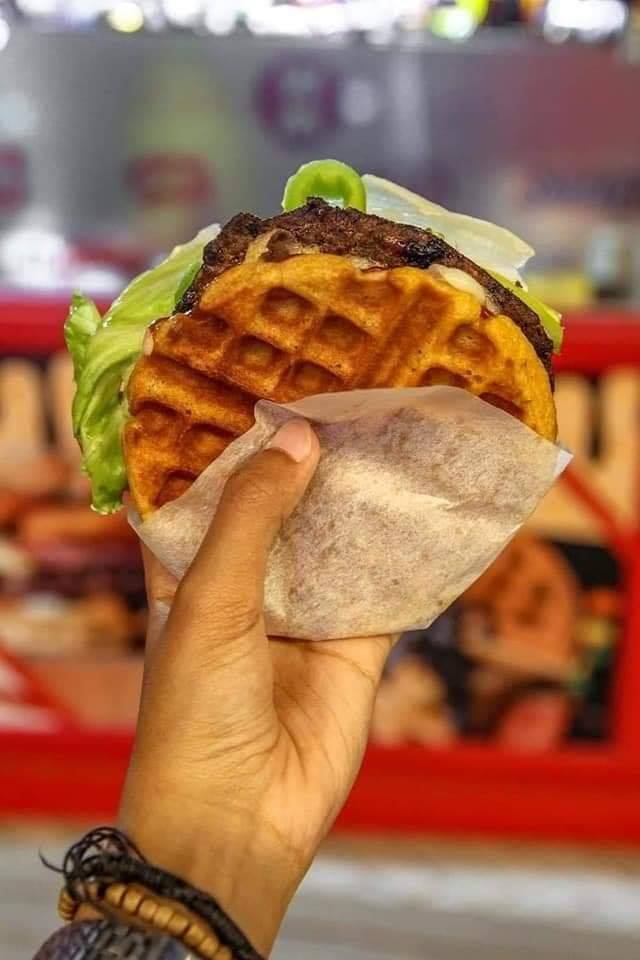 Most of us have waffles as a dessert, but have you tried a waffle with a burger? Waffle Maker has the burger for all you waffle lovers (or adventures) out there. Instead of that ordinary patty and bun, well, it's still a patty but inside a waffle sandwich. For EGP 65 and a call on 01277779023 that waffle burger is yours.
SceneEats Tip: Hot sauce will elevate your experience by 75%