Charcuterie boards, grazing boards—whatever you wanna call them, these pretty assortments of smoked meats, artisanal cheeses and anything else you can mindlessly munch on have taken the world by storm and Egypt is no exception. Served up on wooden trays and assorted in harmonious, aesthetically-pleasing clusters, these boards are gonna elevate your next picnic, brunch, movie night, whatever to the next level.
Who said platters should only feature cheese? Splatter not only offers platters featuring the finest artisanal cheeses paired with gorgeous snack-worthy charcuterie picks (dried fruits, nuts and more) but they also take the concept to the next level by reinventing the idea of a traditional platter. The brand arranges beautiful fruit platters as well as an iconic crowd-pleasing seafood one, all served on their organic wood board which you get to keep! Get your hands on one of their ready-made creations or splurge a little and get yourself a nice custom board.
Who said only Cairenes get to graze and snack? This local Alexandrian brand is bringing breakfast trays and cheese platters to the heart of the coastal city fashioned with Instagrammable, out-of-the-box ingredients. From tantalizing savory mezzes to mouthwatering dessert platters, Confetti & Cheese has a gorgeous board custom made for any occasion.
This gourmet brand is elevating charcuterie to new levels with their simple yet elegant assortments made from only the finest ingredients. Also, they don't believe in pre-made anything, so each one of their graze boards, canapés, tea sandwiches and pinwheels is made special just for you. These pretty boards look like they belong in an idyllic countryside cottage.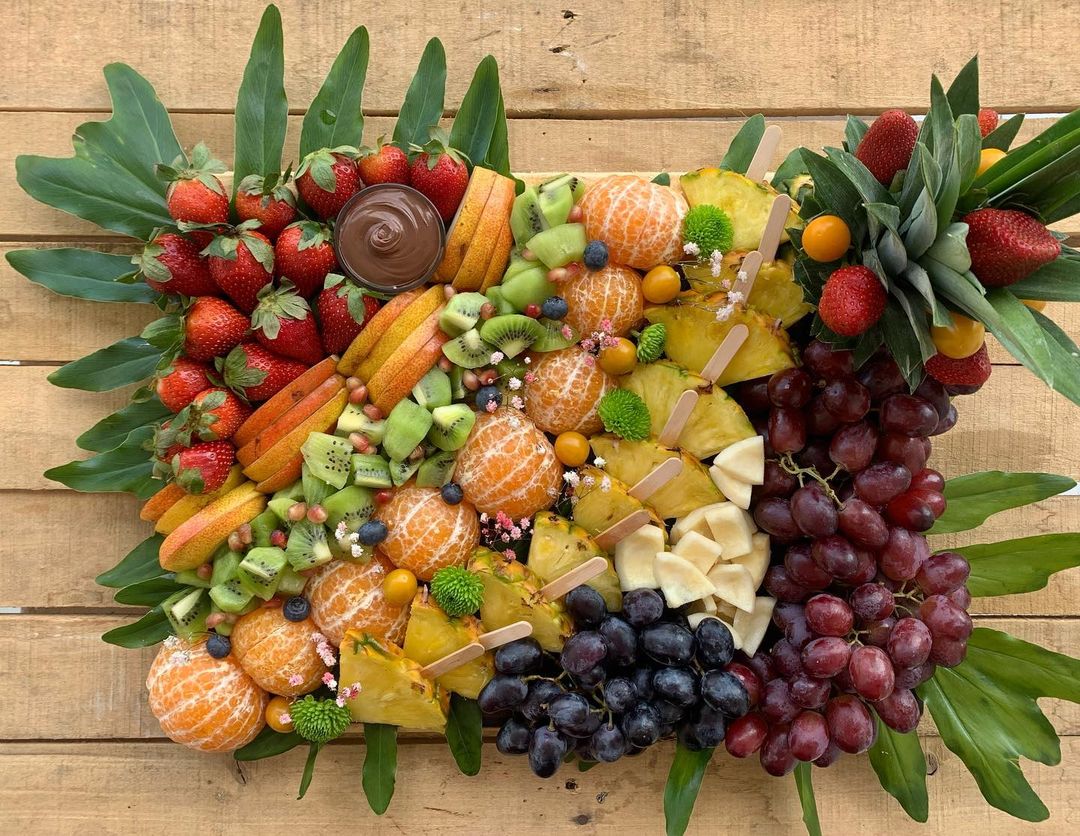 A fruit platter from Splatter that looks positively delish

Whether you're stuck in Cairo or chillin' seaside in Sahel, Gourmet has you covered with their delectable, visually pleasing platters. They have everything from yummy cheese platters adorned with veggies, crackers and seasonal fruits. For vegans or those looking for a refreshing snack, go for their Crudites Platter or their gorgeous Fruit Skewers Platter—a stunning centerpiece for any occasion. You'll have to wait four hours for prep and delivery though (but that's okay because it means they're extra fresh).
Again for Cairo and Sahel goers, these yum yum cheese platters will take you across the vast lands of Europe with their French, Italian, Swiss and Greek cheese selections. Spice up those party nights with their unique pairings like their marinated salmon or octopus. Call 'em up on 19393 and thank us later.
These gorj boards decorated with delectable artisanal cheeses, cured meats, flavoured honey and tons of fresh fruit are the perfect centerpiece for an at-home wine and dine rendezvous. A well-made charcuterie board is the perfect crowd pleaser. With such a colourful selection of munchies, everyone will find something to snack on.