Whether you're someone who's sick of family 3ozoumas (sorry, Tante Jihan) and want to try something new, a bad chef that can't cook to save their life, or you honestly just want to wear your new fav kaftan to flaunt it at some Instagrammable tent with your sohour squad, there's something for everyone here. We here at SceneEats are back with our annual Ramadan guide so you don't have to worry about one bit while fasting. You're welcome, besties.
TENTS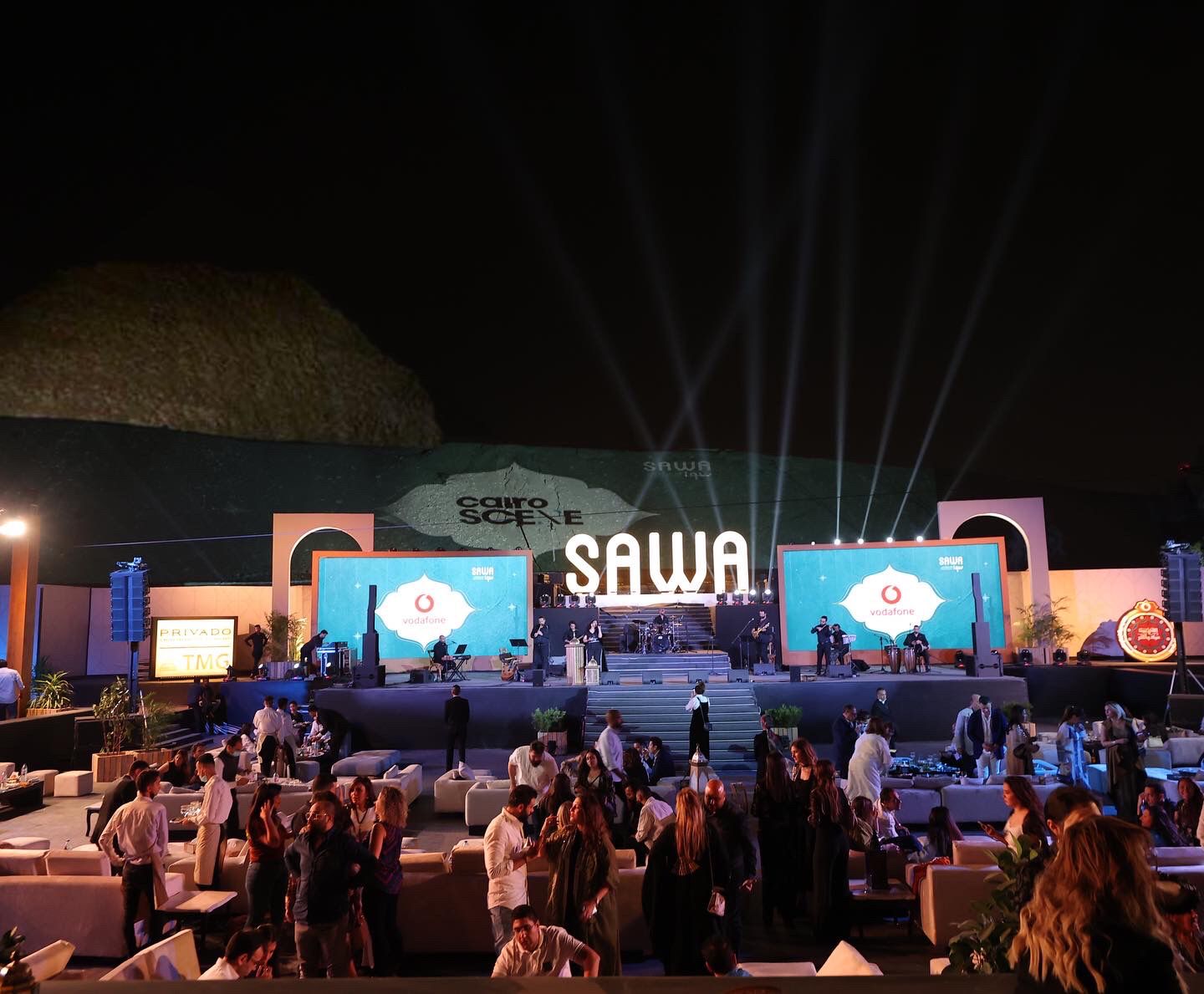 Sohour at the foot of the pyramids is now a reality with Sawa
SAWA // GIZA
What does Ramadan mean to you? Whatever it may mean to you, it all comes down to one thing: being sawa. And that is exactly what this tent is all about. Located at Kundalini Grand Pyramids, you'll be able to enjoy your iftars and sohours with a big side of #ViewGoals that happen to be, well, the Great Pyramids of Giza. Marriott Mena House, Cairo is in charge of the food, so you know you're in for a good time.
Reservations: Available via Collard Tickets
MAWLAY EXPERIENCE // OLD CAIRO
Mawlay may or may not have been the best thing about Ramadan last year. Their first edition saw them take over the National Museum of Egyptian Civilisation where you got to dine with kings and queens. This time round sees it finding a new home for itself at Salah El Din Citadel where you get to pretend that you're a royal and have your iftars and sohours in a one of a kind setting. We don't know about you, but we're totally here for this.
Reservations: +2 0121 262 9529
EL KHEIMA // SHEIKH ZAYED
Sohour stans are going to want to check out this new kheima taking over west Cairo, Royal Park to be exact, where the unstoppable Egyptian Project will take over the space so that you could feast your ears along with your belly at the same time.
Reservations: Available via social media
AL-RAWI // FUSTAT
Did you know that you could enjoy your iftar seated just a few metres away from 22 royal mummies? Well, you can do exactly that at Al-Rawi tent. The new kheima, which happens to be located at the outdoor terrace of Cairo's National Museum of Egyptian Civilisation, offers diners a true taste of history.
Reservations: Available via social media
MARRAKECH // NEW CAIRO
The Smokery ventures into the world of tents to provide us with its very first sohour kheima. Marrakech won't be taking place at any of their branches, however, you will be able to find it at New Cairo's Hyde Out where you can expect takht shar2y, mozamar shows, live entertainment from mega stars (*coughs* Medhat Saleh is legit coming to perform on April 7th *coughs*), and so much more.
Reservations: Available via Tickets Marche
THE PALACE // NASR CITY
If you happen to reside in the beautiful city that is NC, chances are you don't have that many options when it comes to tents. The Palace aims to change that this year by serving you all of Teita's iconic dishes but make it level 999. Taking place at Atrium-Holiday Inn Cairo, this is the only tent you need to know about if you're from that side of town.
Reservations: Available via social media
LAYALINA // SHEIKH ZAYED
Layalina may have only existed for one year before, but it has already amassed a big following – especially among celebrities – in a very short time. The tent prides itself on taking you somewhere nostalgic, to el zaman el gameel of Ramadan, where you get to devour your favourite culinary classics while enjoying live shows from the country's biggest performers – from Pousi to Ahmed Sheba and so much more.
Reservations: +2 0155 551 0018
NOISETTE// FUSTAT
Located at Le Lac Du Caire, you'll now be able to feast your eyes on the most gorgeous panoramic view of the National Museum of Egyptian Civilisation whilst you nomnomnom your way through sohour. When it comes to food, expect to have all the Ramadan classics you grew up eating like mahshi, shish tawook, and molokhia whilst you enjoy live performances by some of the country's biggest stars
Reservations: Available via social media
LAYALI // GIZA
Gracing us with their presence for the very first time is Layali, Cairo's newest kheima that's not afraid to show you what they've got, and we're here for it. Located at Hyatt Regency Cairo West, the tent is set to make its debut on April 7th where superstar Mahmoud El Leithy will set the tone of Layali for the rest of the month.
Reservations: +2 010 1919 1913
FAWANEES BY NILE TERRACE // DOWNTOWN CAIRO
One thing is for sure, we will never get bored of a Nile view. We just won't. There's just something about sharing your food with your loved ones against this beautiful backdrop that instantly makes whatever experience you're having ten times better. If you're about that life, which we're positive you are, then this InterContinental Semiramis kheima is for you.
Reservations: +2 0120 355 633
EL KHAN // HELIOPOLIS
Inspired by Khan El Khalili, El Khan will be bringing the iconic souq to Hilton Cairo Heliopolis for the second year in a row. What makes this tent stand out is its aesthetic that legit will have you thinking you're in Old Cairo. Furthermore, they have all kinds of board games that you can play with your posse after you're done eating like Snorlax.
Reservations: 02 22677730
SI OMAR // NEW CAIRO
Because the Ramadan party can't start until Si Omar comes in. Everybody knows the Si Omar tent. It has been a Ramadan staple for as long as we can remember. This time, however, it has decided to surprise us by relocating somewhere new, and we're totes here for it. Nestled away inside New Cairo's Royal Maxim Palace Kempinski Cairo, expect everything you've come to love about the iconic tent. Oh, and if you're a sports fan, be sure that they'll always have your favourite match playing on their screens.
Reservations: 02 22495344
EL SOHBAGEYA // NEW CAIRO
What makes this tent stand out is that it's the only tent on this list that doesn't just serve Egyptian food, it also serves Lebanese food thanks to Tamara Lebanese Bistro. Oh, and their opening night will see the legendary Hisham Abbas take over the stage on April 7th for a one of a kind show. You can find El Sohbageya at Tameer Azad Project inf front of the AUC.
Reservations: Available via social media
IFTARS & SOHOURS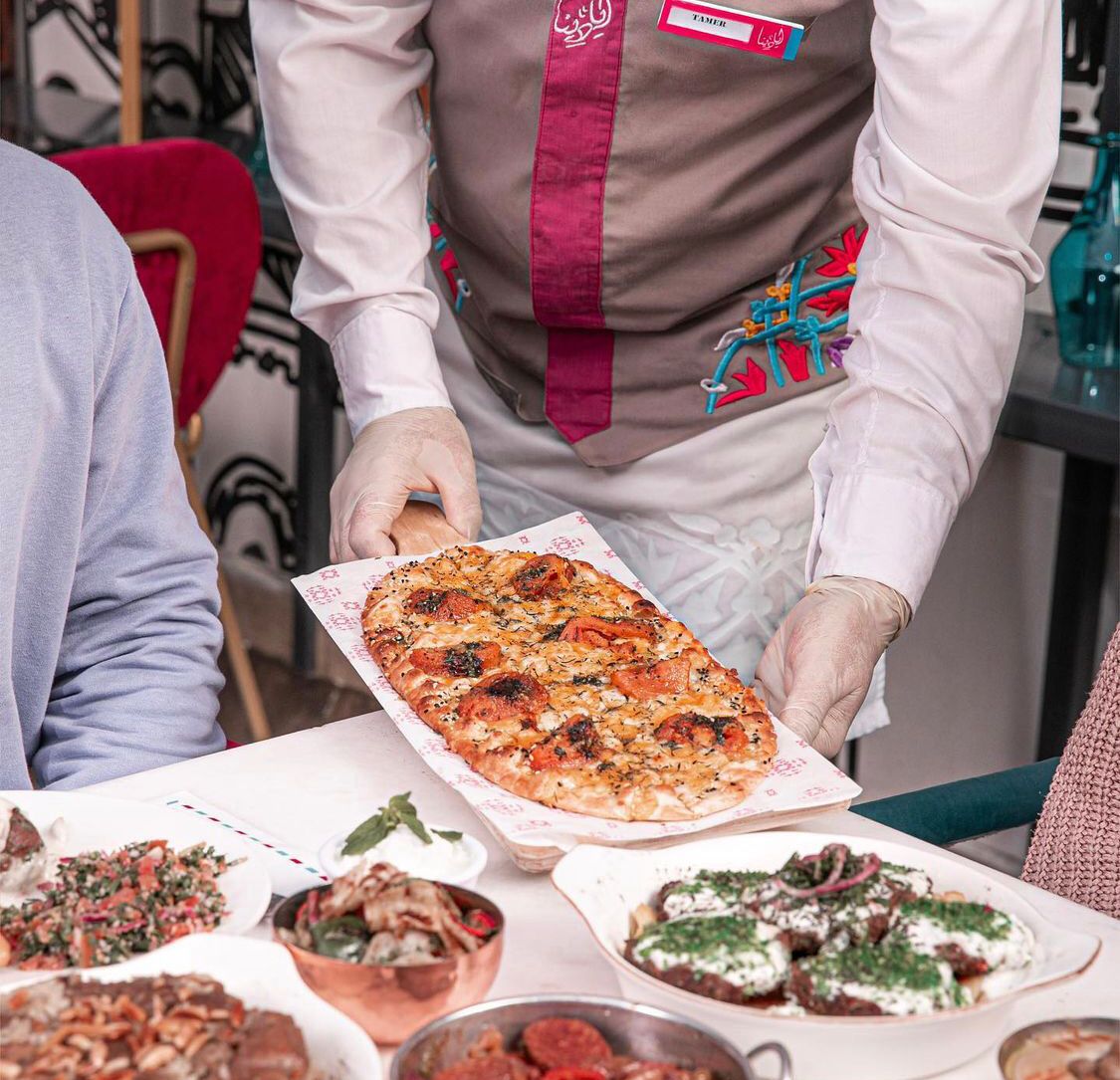 The iftar buffet at Ayadina
LA CURVA // HELIOPOLIS
The Asian-Mediterranean fine-dining restaurant will be offering a special Ramadan set menu that exudes fancy and only that. Think wara2 enab with quinoa and fattah with truffles. If you feel like you're going to miss their actual menu though, worry not because they'll still be serving it.
Phone: +2 0120 762 6099
LABASH // NEW CAIRO, 6TH OF OCTOBER, MADINATY
Labash are still going to have their mashrama as is if you're worried, but they are also going all our for sohour with their Qedra offering. What's that, you say? Basically, you get an actual qedra for sohour where you feed yourself foul from. If that's not the dream, we don't know what is.
Phone: NA
GRACIAS // SHEIKH ZAYED, MAADI (ONLY DELIVERY)
The infamous taco truck is turning into a full-blown sohour tent and serving only the classics - and we're living. Almost everything Mexican item on their menu is going to vanish, but they will have pico de gallo foul and churros Om Ali. Oh, and instead of having baladi bread, you can have anything in tortilla bread. We know, right?
Phone: +2 0122 579 6925
LONGHORN // NEW CAIRO
The experts of everything meat are comin' thru this Ramadan with a slew of platters that pack enough protein to last you for the whole month. They've got the Lockhart Platter (EGP 188), which is all about the sausage 'hot link' life, and there's the Austin Platter (EGP 281) which comes with a show.stopping chopped brisket sandwich. Then there's the Texicana Platter (EGP 270_ with pico de gringo taco, then the Dallas Platter with the smoked brisket (EGP 291) - there's a lot of them, in short.
Phone: +2 0105 008 8358
OKE // SHEIKH ZAYED
Oke (the younger sister of dining favourites, Gigi's, Mezcal, Binge and Izakaya) is the only one of the siblings that's going to be open this Ramadan, because she's a good girl. Iftar here is going to stand out from most places because the menu is a whole world away from what's happening everywhere else, meaning that you can still have all of their universally-loved dishes to break your fast. From mint spring rolls to tamarind beef, sushi and pho - it goes on and on...and on.
Phone: +2 0122 220 5340
ESTRO // MAADI
Maadi's Sicilian rooftop is going to take its Sicilan side on the DL and Om El Donia side on full blast with a new menu filled with all of your favourite, homely classics. Imagine having a Ramadan iftar with THAT killer view. It doesn't even matter what we eat, just feed us that view!
Phone: +2 0106 6431 590
AYADINA // BRANCHES ALL OVER CAIRO
Pack up your suitcase because you're going to Lebanon, except there's no suitcase for you to pack because Ayadina is right here in Cairo with their batata 7arra, fattoush and kebba naya.
Phone: 16267
GRINGO'S // MAADI
Pack up your suitcase because you're going to Mexico, except there's no - oh wait, we've used this one before. This is embarrassing. In any case, this marvelous Mexican knows how to hit all the right spots and will be giving you all of the empanadas, chimichangas, and everything under the Latin sun, starting at just EGP 39 this Ramadan.
Phone: +2 0127 524 9280
ZOOBA // BRANCHES ALL OVER CAIRO
Ain't no sohour like a Zooba sohour because a Zooba sohour has things like eggplant tam3ya with beetroot hibiscus tahina. The forever experimental, Dr. Frankenstein of a restaurant has done it again, making sure that you sit on the edge of your seat whilst you await your sohour.
Phone: 16082
EL TORO // NEW CAIRO, MAADI, SHEIKH ZAYED
The one and only El Toro saved our lives a couple of years ago during quar with their endless frozen products. This year, they're ready for you to pay them a visit and have them do all of the work instead. No more making hawawshi for yourself again...well, unless you really want to.
Phone: 16685
TURCIA // NEW CAIRO
>Don't you love it when a restaurant's name tells you exactly what it is? Like Turcia - because it's Turkish. See what they did there? Now, your grandparents might tell you that the Turks took most of their cuisine from Egypt, but you take lil' old whiny Teta down to Turcia this Ramadan, feed her their Tavuk & Badem Guvec and ask her what part of Shobra they stole it from. We'll see what she has to say then.
Phone: +2 0128 888 3863
FOUR SEASONS HOTEL CAIRO AT THE FIRST RESIDENCE // GIZA
Greek iftar on the actual river? What about some mashawy by the pool? Egyptian buffet with a killer Nile view? The First Residence are serving you Ramadan in style and doing it without burning a hole in your pocket. You can have a Lebanese ian iftar at Aura at your own private cabana by the pool. There's also a buffet of Egyptian favourites at La Gourmandise and last but certainly not least, there's that Greek iftar we promised you at First Nile Boat's Zoe.
Phone: 02 35671600
MARRIOTT MENA HOUSE, CAIRO // GIZA
The historic Marriott Mena House's 139 and Level Up are going to give you the most extra iftar or sohour - one worthy of royals whose memories are etched in the very existence of the Great Pyramids that stand before you. Anyway, expect mashawy, pasta and seafood stations to go along with that view.
Phone: 02 33773222
CAIRO MARRIOTT HOTEL & OMAR KHAYYAM CASINO // ZAMALEK
If there's one thing the Cairo Marriott is famous for, it's the hotel's restaurants, with each one offering an entirely different vibe. Omar's Cafe will feed your I-only-dine-in-palaces persona and Garden Promenade will have you living your best greenery life. Saraya Gallery will make you think you went to Paris for a second and Egyptian Nights will hit that spot for anyone looking for a traditional Egyptian Ramadan experience.
Phone: 02 27283000
THE NILE RITZ-CARLTON // DOWNTOWN CAIRO
Where else in Cairo can you have an iftar buffet or a sohour extravaganza with an extra side of live entertainment and a view of The Egyptian Museum? The correct answer is nowhere but at The Nile Ritz-Carlton.
Phone: 02 25778899
FAIRMONT NILE CITY // BEAULAC
If variety is the spice of life, then Fairmont Nile City is going to be mighty spicy this Ramadan. Bab El Nil is serving up a set menu of Egyptian staples for EGP 375++, while L'uliveto is rustling up a mean Mediterranean buffet for EGP 499++. They have a kheima called Ramadan Nights for sohour so you can wear your fav kaftan, take an Insta story with the hashtag #RamadanVibes and have sohour for EGP 210++.
Phone: 01228864887
SOFITEL CAIRO NILE EL GEZIRAH // ZAMALEK
The only spot you need to know about is the iconic El Kababgy. Be it iftar or sohour, this restaurant is going to give it to you and more --- from grilled meats to tagines, there's no limit. Oh, and you get to also see your 3eish balady getting made if you happen to be there for sohour. You'll smile at the lady making bread, she'll smile back, you'll take a photo and cherish it forever.
Phone: 0227373737
CATERING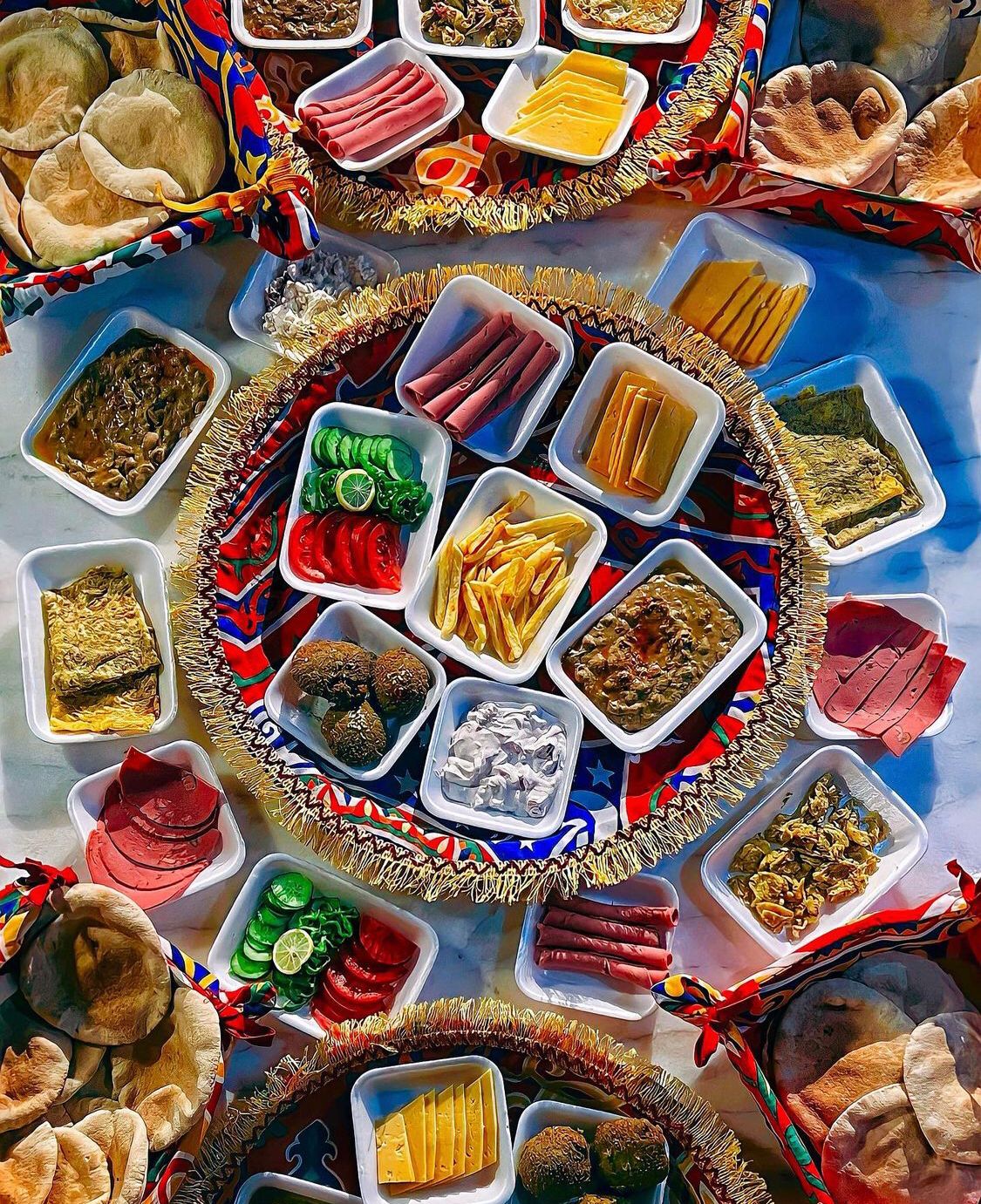 The sohour spread from Cairo Eats
CAIRO EATS
Cairo Eats makes, well, anything you want. Literally whatever you want. You can actually ask for anything - within reason, of course. However, they shine when it comes to Egyptian food. They have three packages: the first one includes the just delivery of the food. The second includes food stations and waiter service, and the last one fives you having an on-ground chef. The more the merrier?
Phone: Available via social media
CHEZREMI
Chezremi's food comes at the cross section of Lebanse cuisine and canapes; meaning, your appetiser life is going to be sorted with them this Ramadan. Chezremi requires a five-day notice, so make sure you know that before calling them.
Phone: +2 0102 442 5040
GIGI'S
Gigi's excels because they cook just like Mama...which is why you should let Mama rest this Ramadan and let Gigi take care of things. It's fresh, it's homemade and it's even healthy. Sounds too good to be true...
Phone: +2 0100 500 0424
BEYOND
Beyond is called Beyond for a very good reason. They're the people to call if you want to go beyond the Ramadan food you have every year. We're talking cheese platters, Philly cheesesteak chips, shrimp curries.
Phone: +2 0100 424 0637
ETEN
One of the fairer priced options on this list, Eten works on the theory of 'good food is good mood' and does everything from sandwiches to individual meals This Ramadan, they're ready and waiting to serve up feasts, and though you have to give them two days notice, it's certainly worth the wait. Minimum order is EGP 600.
Phone: +2 0102 522 8788
UMAI
Okay so, Umai are not playin' this Ramadan - like, not even a little bit. They only have time for all things bougie like lobster rolls, and roasted duck with marron, if you're about that life.
Phone: +2 0100 000 3459
SETT ELBIET
Give YOUR set elbiet a break this holy month and call up Sett Elbiet to dala3ha instead. No shade, but the food might even be better.
Phone: +2 0122 696 9446
FROZEN & READY-TO-EAT FOODS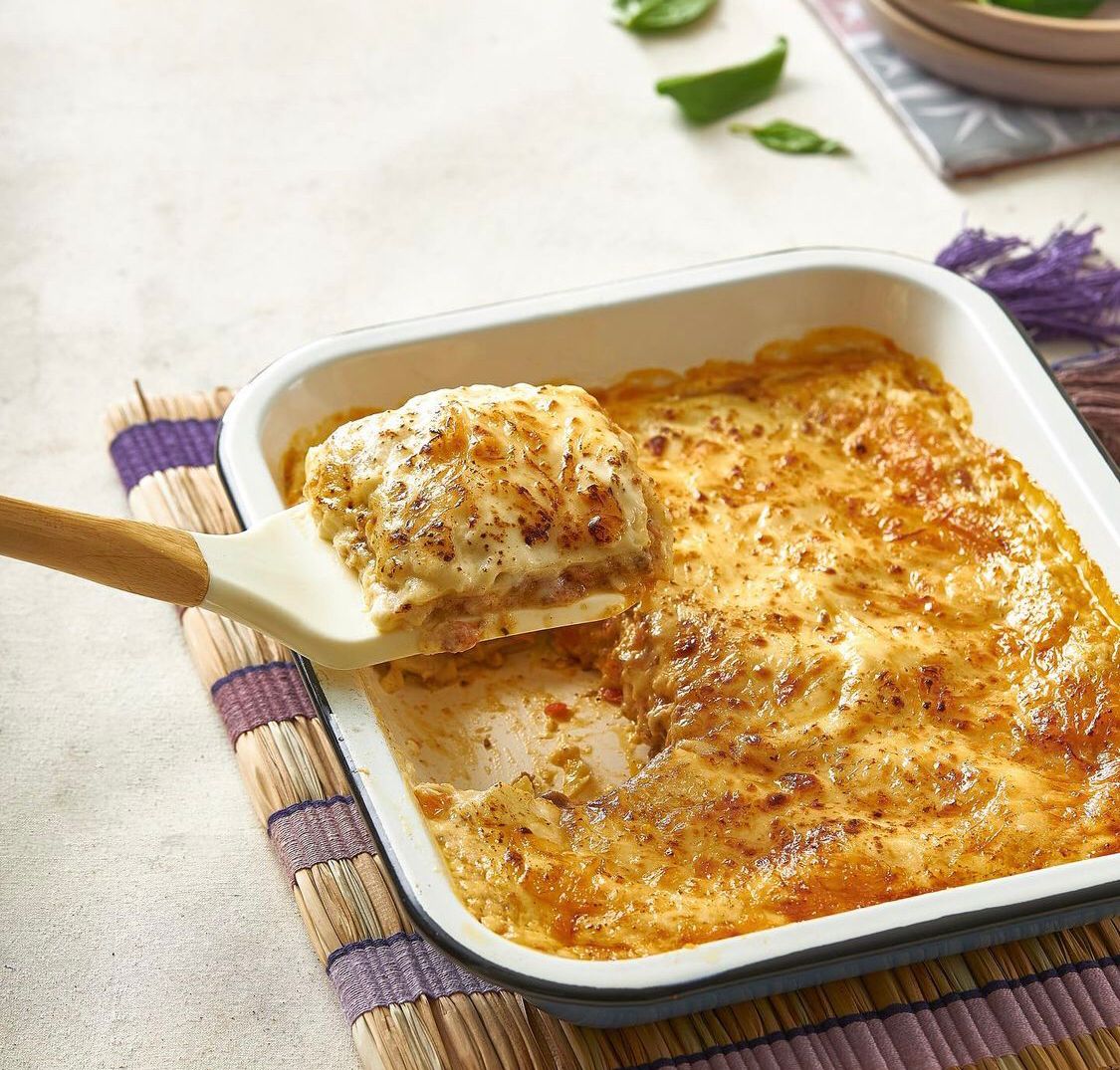 Macaroni bechamel from Gourmet
LAZAH READY
The brand is set to become a game-changer for anyone who has problems with cooking. Whether you don't have time to cook, or don't even know how to cook, you can now successfully not just make a snack but a whole dam* meal in no time. It's all ready to go in one pack. You literally won't require any external help from anyone or anything else thanks to this invention. So yes, whether you're a veteran cook with no time on your hands, or someone who has never delved into the world of cooking but want to give it a go, Lazah Ready's packs come with all the sauces and spices so you can live your best life instantly. Oh, and the best thing about them is that they're all healthy. They make things like molokhia, green beans and everything in between.
Phone: NA
V-LICIOUS
This brand has been fighting the good vegetables fight for the past few years now, making sure that most people incorporate veggies in their meals. That is exactly why all of their dishes have hidden greens inside of them -- whether you get chicken pane, meatballs or kofta, you'll be making sure that you get your nutrients with them as well.
Phone: +2 0100 44 83 252
SINCERELY V
This power plant cafe nabs its spot on our list because it's the only one that delivers iftar and sohour packages for vegans/vegetarians. The highlights? The tofu shish tawook and lentil kofta. Snigger all you want, carnivores. It's sincerely good.
Phone: +2 0127 869 3277
GOURMET
Gourmet is offering ready-to-heat brams including roz me'amar, freekeh, and kibbeh b'laban, bit the swanky supermarket is also cooking up rokak and a selection of desserts for us this Ramadan. The best part is that you can reuse the bram afterwards. Not for cooking though - ha! You can't cook, that's why you're here.
Phone: 19339
SMILEYS GRILL
Starting at just EGP 40, Smiley's Grill is sending everything from ciabatta bread to mushroom pane and fajita packages your way. If that doesn't put a smile on your face, we don't know what will.
Phone: 16070
FETEERA
Feteera's semi-cooked feteer rolls will make your iftar and sohour (or any snack sesh in-between) so much more amaze.
Phone: 16287
DESOKY & SODA
If you think about it objectively, sohour is a lot more fun than iftar. And if you don't agree, we're pretty sure that Desoky & Soda's party will sway you the other way. You can get your four and falafel fix for just EGP 109, a package that serves four.
hone: +2 0102 539 4444
ITLOBLENA
You might know them as the app that makes you live your best online grocery life, but what you didn't know is that they have a massive line of frozen foods that can make you throw the best iftar or sohour without breaking a sweat. Think mombar, sambousek, vine leaves and everything else that matters.
Phone: +2 0109 000 0270
CAKE CAFE
Arguably the cutest spot on the island of Zamalek, Cake Cafe has whipped up an adorable sohour box for the aesthetes among us. It's not cake, but it is definitely as pretty. Serving two people, you can get this treat from Otlob through between 10AM to 2AM. And yes, shawarma rolls are totally an acceptable sohour item.
Phone: +2 010 23505014
CRAVE
Crave's Ramadan Comfort Box is the three-course emotional redemption we're all in dire need of. Choose your selection of soup, salad and mains - but don't worry, absolutely everything you choose will come with shrimp konafa. Share the box with three more people for EGP 299 each.
Phone: 02 25210356
VINNY'S
Yes, you can make Vinny's pizza yourself at home and for only EGP 95. Pepperoni, cheese, even spinach is on the menu. Order yours through this form.
Phone: 19867
DESSERTS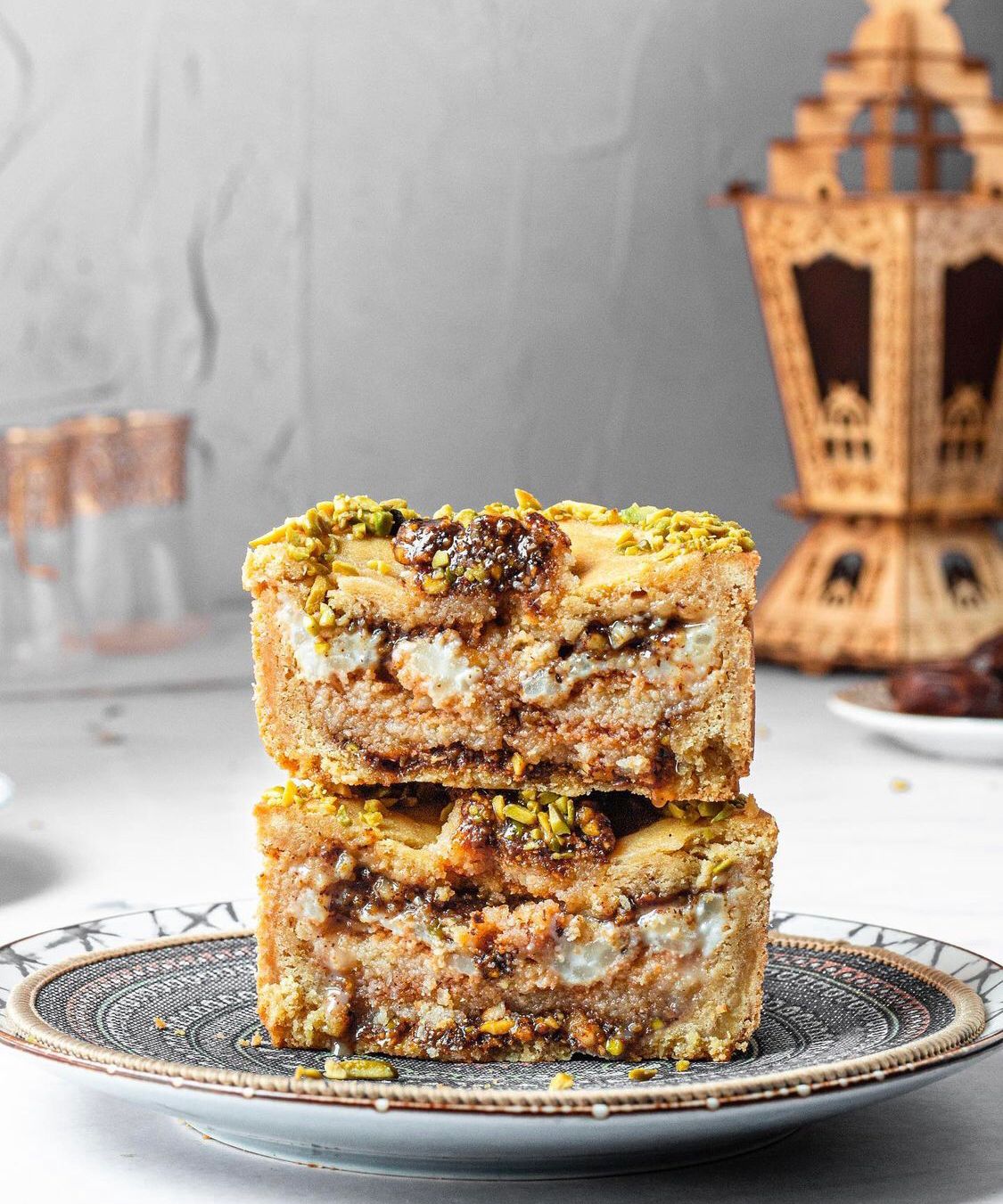 The sugar-free date creations from Weirdough
SELF // BRANCHES ALL OVER CAIRO
We are happy to announce that Self Juicery, best known for its delicious cold pressed juice, wellness shots and delicious salad bowls, are once again revolutionising the healthy eating game with their all-new Ramadan dessert menu. They now make carrot pudding, coconut cream konafa, almond caramel konafa, and our personal fav. the coconafa (if you're a chocolate stan this one is made for you as it blends both cocoa, vegan cream and konofa in birthing you this delicious alternative for your standardized konafa).
Phone: +2 0115 1633 342
TORTINA // BRANCHES ALL OVER CAIRO
Last year they gave us the madlouka and maklouba, this year Tortina gives us the shar2ana and ghar2ana. Both happen to be a fusion of Ramadan classic desserts in the form of a cake. They went there, yes. What a moment that needs to be experienced!
Phone: 15412
NOLA // BRANCHES ALL OVER CAIRO
Started from cupcakes, now we here. NOLA went a little above and beyond by creating an entire menu just for Ramadan with new, never-seen-or-tasted-before items. They've got things like konafa Lotus mango volcano cake, baklava burger, atayef pancakes, konafa cookies and more.
Phone: 16714
DARA'S ICE CREAM // BRANCHES ALL OVER CAIRO
The kween of ice creams has arrived to tell all of you she doesn't just reign supreme over the ice cream world. Dara now makes mango & eshta cakes and baklava cakes. BRB while we die and go to heaven.
Phone: +2 0103 370 8942
DOLATO // SHEIKH ZAYED
Dolato is reinventing ice-cream cones with a twisted konafa base that redefines the ice-cream game with six different types of gelato tailored to Ramadan's special cravings, and it gets even better. Apart from their Lotus, Nutella, and mango konafa cones, the ice-cream flavours come in a colourful variety like honey sesame, romoush el sett, peachy raisin yoghurt, mango konafa and hazelnut basbousa.
Phone: NA
DIRTY COOKIE // NEW CAIRO
Think their iconic cookie cups, except they are made from konafa.
Phone: NA
TBS // BRANCHES ALL OVER CAIRO
Last year we thought roz bel laban with flavours was as crazy as it could get. We mean, rice pudding with Lotus was mental, but there's more - there's always more. TBS had to go and one-up itself by introducing pistachio baklawa and tresut (Nutella & Lotus mix). Sigh.
Phone: 16679
SALE SUCRE // BRANCHES ALL OVER CAIRO
Sale Sucre has existed for as long as anyone can remember, but all we have to say right now is that they make bala7 el sham stuffed with Nutella and Lotus. Oh, and they also make tres leches for some reason. That is all. Go.
Phone: 19632
NINO'S BAKERY // NEW CAIRO
We don't think you'll need more than Nino's Lotus and Nutella stuffed atayef, but we don't know your story and we don't want to put you under that kind of pressure.
Phone: +2 0102 314 7888
WEIRDOUGH // BRANCHES ALL OVER CAIRO
Thye now make sugar-free date cookies so you can consume them guilt-free, sis.
Phone: NA
HOUSE OF COCOA // BRANCHES ALL OVER CAIRO
Chocolate? Yes. Rice pudding? Yes. Chocolate rice pudding? Just take our money already. The masters of chocolate are introducing the power of cocoa into our Ramadan dessert plates, and whenever chocolate is in the picture, we oblige.
Phone: +2 0122 221 2480
MANDARINE KOUEIDER // BRANCHES ALL OVER CAIRO
They might not have any cray cray inventions, but it really is true that old is gold. Nothing beats a classic konafa from Koueider.
Phone: +2 0128 888 3638
SIMONDS // BRANCHES ALL OVER CAIRO
Pampering us with a fine konafa Nabulsiya since 1898, you can have a taste of history delivered straight to your door with Simonds. They also make red velvet konafa...if you're, like, interested.
Phone: 16264
THE BATTER HALF & CO. // BRANCHES ALL OVER CAIRO
There's atayef and then there's atayef with red velvet, pistachio or basbousa at the Batter Half & Co. which still gets our award for best named bakery in Cairo.
Phone: +2 0102 448 8878
LA POIRE // BRANCHES ALL OVER CAIRO
They make roz bel laban Four Seasons. Nuff said.
Phone: 19515
COPPERMELT // BRANCHES ALL OVER CAIRO
Have you ever had a basbousa creme brulee? Well, now you can with Coppermelt.
Phone: +2 0128 888 0555
SULTANA // BRANCHES ALL OVER CAIRO
The ice cream stans entered Ramadan with ice cream konafa cakes. Our fav is the magdoola creme brulee and mango tres leches because obvi.
Phone: 02 24199738