Have you ever watched Ratatouille and wondered whether you could ever fancy a meal made by a cook the size of your thumb? Well, I have but I've always been hit by the harsh reality of things which happen to be that Ratatouille is an effing cartoon and it's not ever going to make me a lasagna (or anything else for that matter).
But, here's the sitch. The second best thing just landed in Cairo all the way from France and I couldn't help but want to experience it before everyone else. So, I did exactly that and I've come to spill the tea.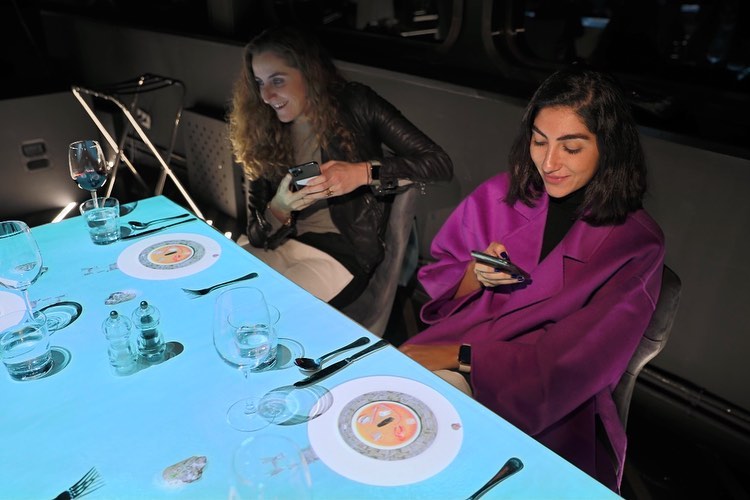 Diners snapping Le Petit Chef as he cooks
Enter Le Petit Chef, the world's smallest cook that recently touched down in Om El Donia in hopes of taking all of us on a gastronomical adventure. Last night, I had the pleasure of meeting the 58mm chef and, oh boy, it was a doozy.
The magic happens at the intimate Nairu Lounge aboard the Four Seasons First Nile Boat that floats ever so beautifully on the Nile. Once you're all settled in, I was shown to my table where the surreal performance starts with the tiny French chef himself coming to life with the help of overhead projectors and digital mapping. It's important to arrive on time (like, on the dot) because the chef waits for absolutely no one, and the show will start, with or without you.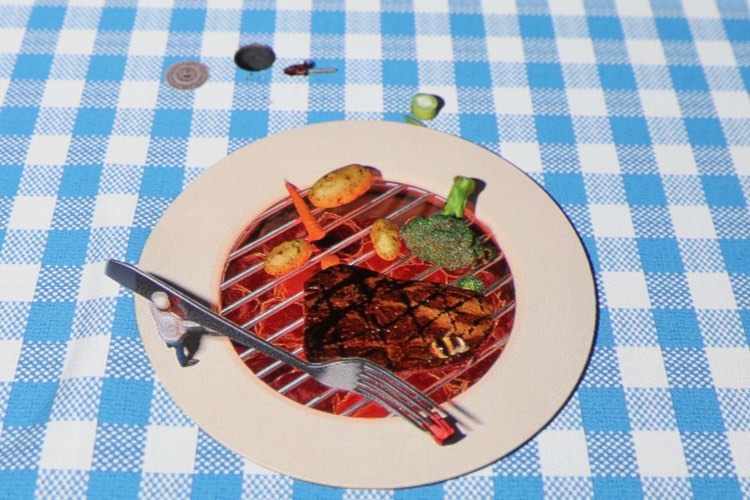 Le Petit Chef making the beef fillet
This two-hour immersive dining experience takes you on a five-course journey where you get to see Le Petit Chef cook everything right in front of you. Things begin with a lush garden scene where the thumb-sized chef wanders across our plate, taking ingredients from his greenhouse and flinging them into the air. It's cute, whimsical and fun as I immediately connect with the character and his determination to prepare a memorable meal, despite the adversities he faces in each interactive scene (there's a little bit of 'violence' involved). The seamlessness in which the themed music, props and holograms combine are impressive, and within moments, I have a delightful buffalo mozzarella and cherry tomato salad in front of me that I can't wait to gorge on.
His second adventure which takes him to the seaside involves very realistic movements, sounds and details, including getting on board a jet-ski and fighting off an octopus tentacle which then transforms into a real-life bisque soup with the freshest fruits of the sea. Let me tell you, I wasn't able to have enough of that shorba.
With unique optical tricks and length distortions employed with the likes of the cutlery and condiments, it's exciting to see the interactivity with course after course of impeccably prepared food. The grilled beef fillet (my favourite course) which melts in your mouth is masterfully prepared and then miraculously transformed into physical form.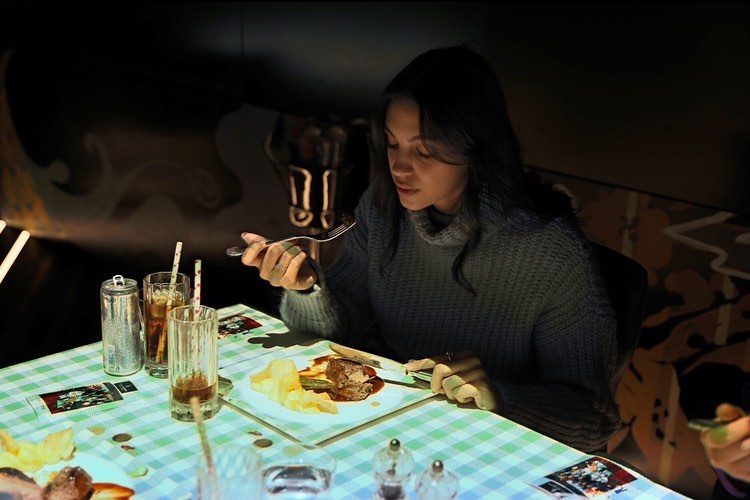 Diners getting ready to eat
I don't want to spoil the overall story arc of the meal – because a) spoilers are the worst b) Le Petit Chef will be pissed c) SPOILERS REALLY ARE THE WORST – but you should expect a grand theatrical dining performance that is not only refreshing but memorable. Le Petit Chef may take more than a good chunk out of your bank account and your time, but I honestly believe that it's absolutely worth it.
There are three menus available: the classic Le Petit Chef one which I had that includes hearty dishes like the iconic bisque soup, grilled beef fillet and saffron creme brulee; the junior menu that basically is a kid's version to the classic menu and works perfectly for any of your little monsters; last but not least, the vegetarian menu with items like quinoa salad, vegetable soup and tomato tart.

Click here (lepetitchef.com/cairo-fourseasons-lpc1) to book your spot right away.